Internationally recognized primate scientist Frans de Waal believes we're experiencing a second, more sophisticated Darwinian Revolution, which will vastly expand our understanding of basic human psychology and human nature. Professor de Waal has studied other Great Apes for almost twenty-five years and agrees with Charles Darwin -- aggression is only one element in human nature. Other vitally important elements have been neglected, including morality, language, cooperation and technology. "These deserve just as much attention as aggression."
Professor de Waal has looked at parallels there are between us and the other Great Apes (orangutans, chimps, gorillas, and bonobos). In the debate over "what is moral" which has raged for 100 years, de Waal does not claim chimps are moral beings, but he has documented primates have a powerful interest in how their societies are structured. His interests are the parallels between other primates and us, particularly sympathy/empathy and social norms/reciprocity rules. He's confident the survival of individual social animals (of which primates are only one example) depends on how the group functions. That gives individuals a great stake in the social environment. Professor de Waal uses beavers to make his point. "If your survival depends not on a dam but on a social group, then you repair things in that social group or you prevent things from happening in that group that are not in your interest." On a practical level, he concludes humans need a better balance between the individualism championed in America and a stronger sense of community and connectedness.
Our species' big challenge? We evolved living in groups of no more than 200 individuals. Now our cities count people in the millions. "It's impressive how relatively peaceful our cities are. Chimps couldn't manage the task." It's another testimony to how good we are at adapting, as earlier we adapted to radically different climates.
And then there are our cousins the Bonobos, discovered only in 1929. Bonobos are very, very sexy -- 75% of their sexual interactions have absolutely nothing to do with reproduction. Copulation is natural in all combinations of sexes. That seems to be central to how peaceful they are -- they literally "make love not war." And females seem to be both dominant and central to bonobo society. It's alarming that bonobos live almost exclusively in the politically unstable Democratic Republic of Congo, putting the species' survival extremely at risk. "Since bonobos are equally close to us as the chimpanzee, we cannot ignore them. It's very hard to draw lines in evolution."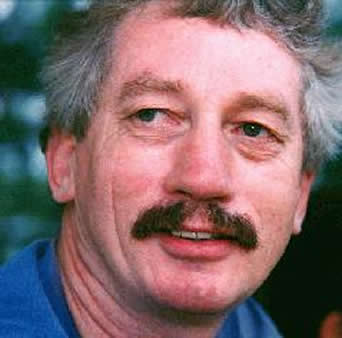 Frans De Waal
Frans B.M. de Waal was born in the Netherlands in 1948. He trained as a zoologist and ethologist and earned a Ph.D. in biology from the University of Utrecht. He is Research Professor in Psychobiology at the Yerkes Regional Primate Research Center at Emory University in Atlanta, Georgia, where he is also Professor of Primate Behavior and Professor of Psychology. In addition to Good Natured and Bonobos: The Forgotten Ape, Professor de Waal wrote Chimpanzee Politics and Peacemaking among Primates. His current interests include food-sharing, social reciprocity, and conflict-resolution in primates as well as the origins of morality and justice in human society.

2:31