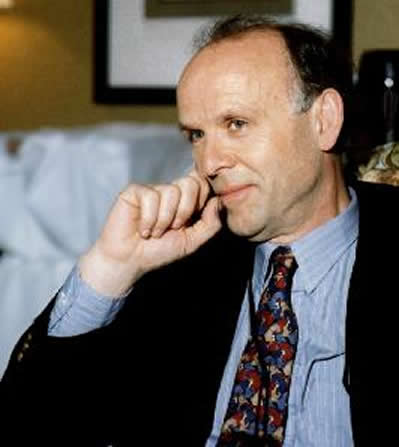 Richard Wrangham
. . . is Professor of Biological Anthropology at Harvard University. His book Demonic Males popularized ideas he has developed in scholarly research focused on the influence of ecology on the evolution of primate social behavior. He has studied chimpanzees in Gombe (with Jane Goodall) and Kibale, vervet monkeys and gelada baboons. With a Ph.D. in Zoology from Cambridge University, England, he makes his home in Cambridge, Massachusetts.

3:24
Out of almost 5,000 mammal species in the world, there are only two in which males live with their relatives in social groups and occasionally make trips into neighboring territories to stalk, hunt and kill members of neighboring groups. Chimpanzees are one. Humans are the other. And we are so closely related that a blood transfusion from one species to the other will save a life, if the blood types match.
Dr. Richard Wrangham is a Harvard biological anthropologist who has spent almost 30 years studying chimpanzee cultures in the wild and comparing chimp cultures to human ones. He elaborates on what he's found in Demonic Males, his general audience book, as well as Chimpanzee Cultures, which he edited with a group of internationally distinguished primatologists.
Our violent primate nature, shared with chimpanzees, is bad news, especially when you add that both chimps and humans are extremely sensitive to imbalances of power. Gangs of males -- either kind -- know perfectly well how vulnerable a stranded individual neighbor is. And regularly take advantage of the situation in murderous ways, as has now been repeatedly observed among chimps in the wild. It does not require an anthropologist to observe similar behavior in humans.
But there's good news, too, Dr. Wrangham is quick to point out. Both humans and chimpanzees are strategically very sensible species. We both can - and do - adapt our environments. We can avoid contexts in which violent behavior is likely. And evolution also offers us another model for how primates can behave: bonobos. These are apes who "make love not war."
Professor Wrangham describes both humans and chimps as sexist, but the bonobos are not. Why? For starters, there is increased social pressure from other bonobos in the wild -- they live in much larger groups than do chimpanzees. And bonobo females form strong alliances with the result that females are at least co-dominant with males. Then there's the "copulatory behavior" which is a release for the inevitable pressures of living in groups. Chimpanzees fight, bonobos ... well, you know.
As we begin to pry open the mysteries of what is uniquely human, what we share with our primate relatives, we face a profoundly sad irony. All apes, worldwide, face extinction in the wild. Bonobos are particularly threatened, because their range is limited to the troubled nation of the Congo. But across Africa and Asia, apes are now hunted as "bush meat." People are eating bonobos, chimps and gorillas. At the same time, irresponsible logging companies are clear cutting forests, destroying habitat, at an alarming rate.
We're only beginning to learn from chimpanzee (and bonobo) cultures -- which vary dramatically from one location to the next. But the exploration may be tragically short. We are in the process of eliminating our closest living relatives. Once they're gone, it's forever.
[This Program was recorded January 15, 1999, in Atlanta, Georgia, U.S.]