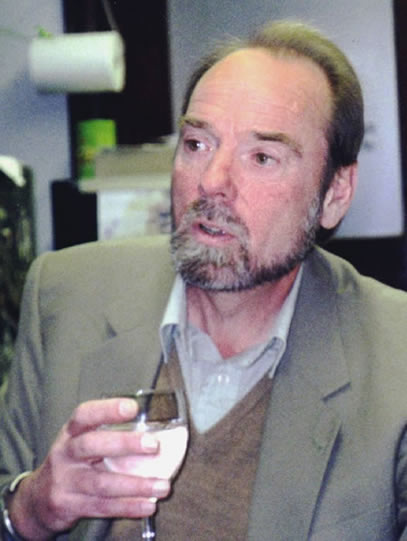 Ian Tattersall
. . .paleoanthropologist. Dr. Tattersall is the Director of and Curator in the Department of Anthropology at the famed American Museum of Natural History in New York City. He reports on fieldwork he has done around the world in hundreds of scholarly and popular articles (such as "We Were Not Alone" in Scientific American) and a dozen books including Becoming Human, The Last Neanderthal and Extinct Humans.

4:18
This is the first time in 5 million years that only one human species lives on earth, according to Dr. Ian Tattersall. Our zoological family (hominids) stretches back 5 million years, but our family "treeš is more accurately described as a bush. And for most of hominid history, multiple human species to lived on earth -- simultaneously. We were not alone.
Why does this all sound so strange? We're accustomed to things as they are, says Dr. Tattersall. And Aristotle misled us with the idea of a "great chain of being" that was destined to end up with us. To the contrary, says Dr. Tattersall. Our very remote hominid ancestors were very, very different from what we are today but it wasn't a straight shot from them to us. We are part of nature, not separate from it, and susceptible to the same kind of triage which determined the outcomes of all the other hominids.
Consider the Neanderthals, Dr. Tattersall's specialty. He's certain they were a separate species with an evolutionary history distinct from ours. No genes mixed, he asserts. Neanderthals lived very successfully (and notably differently from our predecessors) in Europe and Western Asia for 200,000 years. Modern humans turn up about 40,000 years ago, disrupt the tranquility, then suddenly, Neanderthals are gone. Dr. Tattersall sees a connection between these two facts.
Dr. Tattersall and his colleagues are learning how we became who we are anatomically by studying the fossil record. The archaeological record lends understanding to when and how our behavior became modern. It's nature at work, Dr. Tattersall reports. Innovation has been relatively rare and episodic in human evolution. How did we get to be large brained, small-faced, striding upright bipeds, with a very complex set of behavior patterns and our own peculiar human consciousness? Dramatically. Up until agriculture, the archaeological record -- incomplete as it is -- shows only four major technological steps. Each embodied some kind of a cognitive leap.
While Dr. Tattersall has spent a lifetime focused on the technical preoccupation of studying fossilized human remains, he is never far from their mystery and magic. He calls them icons. But what really fascinates him -- and most of us -- is how we came to be who we are, how we acquired consciousness approximately 50,000 years ago. He sees exaptation (in contrast to adaptation) at work. As in any species, our anatomy had to be ready before new behaviors were possible.
Before language, homo sapiens had to have appropriate upper respiratory tracts and brains capable of producing speech's underlying symbolism. What the evidence shows is that until about 40 to 60,000 years ago, anatomically modern humans' behavior was fairly straightforward and fairly simple. The complexities came suddenly and during that 20,000 year period. Dr. Tattersall thinks we can be fairly confident that's when human consciousness as we know it today became established.
What happened? Dr. Tattersall's among those who answer: language. Language is not necessary to be human, he reminds us -- Neanderthals did just fine using very sophisticated, intuitive, non-language-dependent processes. That is, they were fine until symbolically reasoning humans showed up. Now you know why Dr. Tattersall describes homo sapiens as "dangerous."
[This Program was recorded January 22, 2001, in New York City, US.]