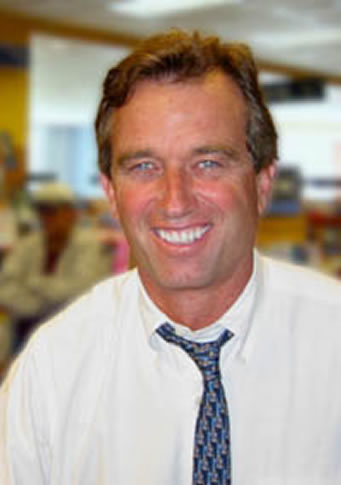 Robert F. Kennedy, Jr.
... environmental lawyer. Author of Crimes Against Nature: How George W. Bush and His Corporate Pals are Plundering the Country and Hijacking Our Democracy, Mr. Kennedy is senior attorney for the Natural Resources Defense Council (NRDC), chief prosecuting attorney for Riverkeeper, and president of Waterkeeper Alliance. In addition, he is a clinical professor at the Environmental Litigation Clinic at Pace University School of Law, a former assistant district attorney for New York City and coauthor of The Riverkeepers: Two Activists Fight to Reclaim Our Environment as a Basic Human Right.

3:51
Our environment is being destroyed, George W. Bush and his corporate cronies are doing it, and the public is completely unaware of what's happening because the media is not doing its job, says Robert F. Kennedy, Jr., America's most prominent environmental lawyer This is a deliberate stealth attack, Mr. Kennedy says, a radical agenda being concealed by the White House with Orwellian rhetoric that calls the destruction of the forest the "healthy forest" law, the destruction of the air the "clear air" bill. Their actions are designed, he says, to eviscerate 30 years of environmental law, eroding all Americans' quality of life in ways neither Republicans nor Democrats want.

A strong advocate for free market capitalism which Mr. Kennedy believes democratizes the country, he is alarmed by the kind of corporate crony capitalism he considers as antithetical to democracy, efficiency and prosperity in America as it is in Nigeria. What polluters do, he says, is make themselves rich by escaping the discipline of the free market, forcing the public to pay their production cost -- over 400 environmental roll-backs have been promoted or implemented by this administration over the last three-and-a-half years.

Mr. Kennedy also fears for democracy in the United States. He says democracy is being assaulted by an administration that undermines laws and adapts regulations to suit corporate interests -- large corporations on Capital Hill have a disproportionate advantage to dictate national policy and the White House at the epicenter for this disturbing trend, he says. Mr. Kennedy has a long list of large corporate polluters who are in charge of the very government agencies that are supposed to protect the public from pollution. But rather than fix environmental problems, Mr. Kennedy says, the White House will fix the law so that polluters don't have to comply with it any more. He points to the virtually unknown but hugely powerful John Graham who rewrote the Clean Water Act to permit factory hog farmers -- an industry Mr. Kennedy demonstrates cannot make money without breaking the law -- to discharge unlimited amounts of waste, forever.

And if the environmental degradation and attacks on fundamental democratic processes weren't more than enough, Mr. Kennedy says that the United States is actually a lot less safe now than it was on 9/11/01, despite billions spent on "homeland security." While the United States searched for weapons of mass destruction and spent $200 billion dollars in Iraq, it was distracted from the real national security issues, he says. Not only did the U.S. fail to build Afghanistan into a paradigm to the Islamic world or catch Osama bin Laden, there are now 15,000 chemical plants and 104 nuclear power plants in the U.S. that are unguarded against terrorist attacks, putting millions of Americans at grave risk. What does this have to do with large corporations? Almost nothing has been done to make them shoulder the cost of protecting their installations. As in hundreds of examples, Mr. Kennedy says it is no accident that large contributors to President Bush and his political party get to put their private profit before every other consideration that most assuredly impacts us all.

[This Program was recorded September 17, 2004, in Atlanta, Georgia, US.]