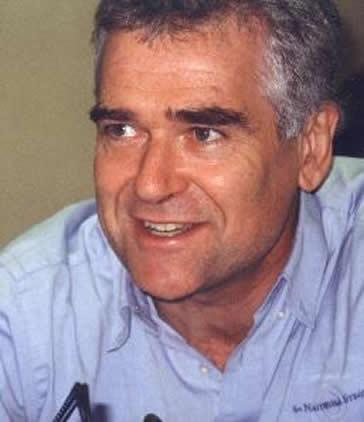 Karl-Henrik Robért
. . . founder, The Natural Step. Once a cancer researcher and practicing physician, Dr. Robért set out in the late 1980s to find "first principles" with which to address profound environmental challenges, worldwide. Since then, The Natural Step framework -- focused on issues of global environmental sustainability and based in the science of complex systems -- has grown beyond its base in Sweden to guide individuals and organizations, worldwide, toward a sustainable future.

3:53

Picture a time when all human activities restore the earth, proposes Dr. Karl-Henrik Robért, cancer-cell researcher and founder of The Natural Step. Contrast that vision to today -- we're running out of life-sustaining resources; our disregard for the environment, and non-sustainable activities threaten our life support systems (water, oceans, fisheries, arable land, a stable climate, the environment's capacity to absorb waste, forest cover and food); the human population explodes as the demand for natural resources rises.
The question, of course, is how do we get from here to Dr. Robért's vision of the future?
Take the natural step, he proposes -- do what humans do best. Be clever. Adapt. Solve the problems. Use science. Focus on business. Since the late '80s, Dr. Robért has taken The Natural Step to as many businesses and organizations as possible, starting in his native Sweden, now reaching from New Zealand, South Africa, the United States, and Australia to Japan and beyond. Dr. Robért and his colleagues have elaborated and refined a framework in which to test and implement ideas about how businesses in particular can think and act in harmony with the earth and its cycles. And they've learned along the way.
Individually, people are great at working out problems, according to Dr. Robért. But businesses are group endeavors. People need guiding principles to solve problems is organizations. Rules for the game. Think chess or soccer or business or a family. So Dr. Robért has two rules for playing the game of sustainability (on which he elaborates in much the same way a tree sends out branches and leaves). One: Envision the future you want so that you can "backcast" (backcasting is the opposite of forecasting). Two: Then work back "upstream" to the present, guided by principles which assure that everyone's essential human needs are met. (He borrows nine non-overlapping needs from Manfred Max-Neef, a Chilean economist. They range from shelter to love.)
The science of complexity guided Dr. Robért -- from simple rules come complex behaviors -- as he and others developed The Natural Step's framework. They were looking for solutions which worked from the very small (like the cancer cells Dr. Robért studied) to the very large (like the planet he worries about). The guiding principles had to be both robust and scalable so that they can fit every special case -- whatever our business, organization, neighborhood group, family unit or individual challenge. Complex behavior starts with simple rules. Meet the need of a single living cell so we can meet the needs of the planet.
Dr. Robért calls us all -- individually and collectively -- to play the sustainability game. Just as one goes for the edge pieces of a jigsaw puzzle to organize its complexity, figure out the principles that define victory. Welcome the concerns and points of view of everyone involved. Generate a shared mental model of what sustainable looks like. Then play as if your future depends on winning.
[This Program was recorded October 6, 2000, in Atlanta, Georgia, US.]