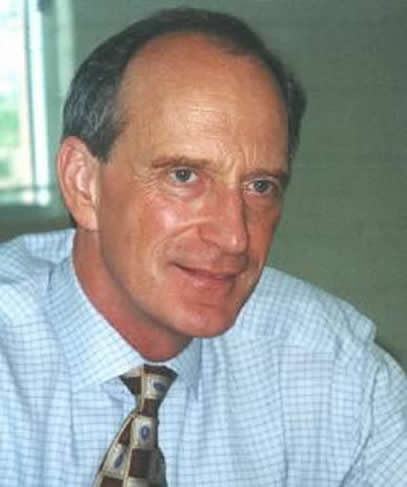 Denis Hayes
. . . Earth Day's founding coordinator, environmental lawyer and conservationist. In 1970, Mr. Hayes helped launch the environmental movement as national coordinator for Senator Gaylord Nelson's Earth Day. Mr. Hayes continues to chair Earth Day, internationally. President of the Bullitt Foundation, he also chairs the board of the Energy Foundation; has received the Sierra Club, National Wildlife Federation, American Solar Energy Society and Humane Society's highest honors; and is author of over 100 articles and 2 books. Mr. Hayes headed President Carter's National Renewable Energy Laboratory and was an adjunct professor of engineering at Stanford.

3:59
A
re humans clever enough primates to use that cleverness beneficially? Denis Hayes isn't sure. He is the man who helped launch America's environmental movement as national coordinator of the first Earth Day in 1970 and continues to coordinate it, 30 years and 180 countries later.
We've made enormous strides since 1970 -- the Clean Air Act, the Clean Water Act, the Endangered Species Act -- addressing immanent, visible threats to people's health and well-being, he reminds us. And in the same breath, he insists we've made little or no progress in most of the big threats to the planet. The real question, as he sees it, is whether the techniques which were very effective in addressing local, statewide, regional and national issues can be applied in an international framework.
Take global warming. Virtually all scientists in geophysics or climatology accept the fundamental reality that humans are causing changes in the earth's climate. What debate there is centers on the magnitude, pace and consequences we face. (So few scientists maintain otherwise that Mr. Hayes knows them all by name and funding source.) So we know global warming is a threat.
But in the short term, nobody wants to be the first to do anything to address the issue, Mr. Hayes says. The United States is by far the biggest contributor of carbon dioxide and other green house gases. But even if America stopped producing CO2 altogether next year -- just shut it down -- 75% of global warming would continue. While Mr. Hayes is confident that the proper role of government is to set the ground rules, the current Congress is unprepared to make any kinds of strides until we get commitments out of China and India. China and India are unwilling to budge until the United States shows good faith. And powerful economic interests work on both sides to keep fossil fuel consumption high, Mr. Hayes contends. So all that changes is the climate.
What's a body to do? Denis Hayes has been answering that question for 30 years and counting.
The second most important thing we can all do, he suggests, is cut down on the amount of electricity we use. Over 4/5th of America's electricity comes from burning fossil fuels -- coal and oil -- which generate green house gases. (Southern Company's Georgia Power tells its customers that more than 75% of its electricity comes from coal.)
The SINGLE most important thing? Get out of Sports Utility Vehicles (SUVs) and light trucks. Or at least choose the "best in class" if you really need one.
Yes, the threats to the planet are real and frightening, but that's not the end of the story, says Denis Hayes. British Petroleum is now "Beyond Petroleum" and the largest manufacturer of solar cells in the world. The Chairman of the Board of Ford Motor Company says he will preside over the death of the internal combustion engine. And David still sometimes does beat Goliath, even on global environmental issues against extraordinary odds.
Besides, what's the alternative? It's one planet.
[This Program was recorded September 15, 2000, in Oberlin, Ohio, U.S.]