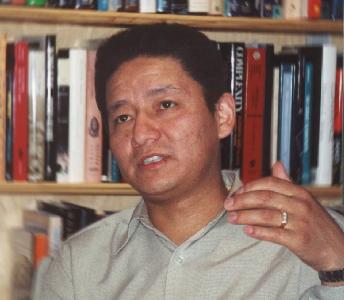 Jamling Tenzing Norgay Sherpa
. . . Climbing Leader for the Everest IMAX Filming Expedition. When he summitted Mount Everest in 1996, Jamling retraced the steps of his famous father, Tenzing Norgay -- in 1953, he and Sir Edmund Hillary were the first men to stand on top of the world. Jamling opens the world of the Tibetan Buddhist Sherpas with his profoundly non-Western perspective on mountaineering in Touching My Father's Soul. He runs Tenzing Norgay Adventures, based in Darjeeling, India, and lives in Jackson Hole, Wyoming, and Kathmandu, Nepal.

[This Program was recorded May 22, 2001 in Atlanta, Georgia, US.]

3:35 secs
Mt. Everest is an illusion, according to Jamling Tenzing Norgay Sherpa, climbing leader for the IMAX "Everest" film crew in the deadly spring of 1996. Everest, known locally as Chomolungma, appears to be the world's ultimate mountain. But for Jamling, Everest is even more imposing as a great teacher. What is to be learned? R-e-s-p-e-c-t. And humility.
Western mountain climbers look at Mt. Everest and see a rock to conquer, Jamling has observed. Sherpas -- the indigenous people who make any and all ascents of Everest possible -- see Chomolungma as their mother, into whose lap they want to crawl. Jamling considers these two dramatically different worldviews in his book Touching My Father's Soul. It's only the second mountaineering book from the Sherpa perspective. (The first was Tiger in the Snows, by Jamling's famous father, Tenzing Norgay, who with Sir Edmund Hillary, was the first to "summit" in 1953.)
Why would one want to risk one's life to climb this mountain? It's the question their Lamas put to Sherpas. Sherpas' answer, "Out of necessity." It is the Sherpa people's principle livelihood. But Jamling says he did not climb Everest because it was work or as a Sherpa, he did it as a member of a team. The IMAX team. They set themselves the formidable task of filming this adventure to offer people who won't take the top bunk a view from the top of the world. Climbing Everest alone is a very big challenge, Jamling reminds us, even without toting a 42 pound camera, huge film canisters and all that's required to make a movie.
For Jamling, it was also a pilgrimage -- to pay homage to his late parents. What he learned in the process were lessons about right motivation: climb with respect to the culture, the environment, the people and your teammates. Jamling learned it from the mountain and he later realized that this was also what he father was teaching him in the guise of climbing techniques.
Jamling feels his book brings him full circle. His father and Hillary brought Mt. Everest to the world's attention. Now the IMAX film has allowed Jamling to share the Sherpa's Buddhist perspective with the world, to let the rest of us learn more about Sherpa culture and about mountain climbing.
Jamling does not downplay how physically demanding climbing the mountain is. He worries that Sherpas are increasingly risking their lives to pull and push rich outsiders to the top, amateurs under the illusion that all it takes is money. He's deeply uncomfortable with the current trend toward competitive, expensive guided tours. If you want to climb Everest, Jamling gently counsels, do it in style, as a true climber -- for passion, not ego. And