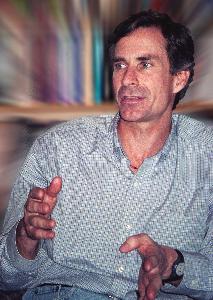 David Breashears
. . . is a world-class filmmaker, adventurer and mountaineer who has combined these passions in remote locations throughout Tibet, China, Nepal, India, Pakistan, South America and East Africa. In addition to his IMAX film Everest, Mr. Breashears has worked on feature films including Seven Years in Tibet and Cliffhanger and the award wining documentary Red Flag over Tibet. He recent book, High Exposure, is a lyrical combination of self-discovery and exploration of the earth's unforgiving places.

3:25 secs
Climbing Mt. Everest or any of the world's great mountains should be an affirmation of life, not a death sentence according to David Breashears.  He is the world class mountaineer and multiple Emmy Award winning cinematographer who photographed, co-produced and co-directed the acclaimed IMAX large-format film Everest. He also worked on the feature films Seven Years in Tibet, Cliffhanger and the award-wining documentary Red Flag over Tibet.
What turns a potentially glorious "moment of great clarityš into the kind of disaster which littered Mt. Everest with bodies in the deadly spring of 1996? Shakespeare called it tragedy. The Greeks called it hubris. David Breashears calls it a lack of respect for the mountain and an inability to grasp that true strength lies in humility. His teachers? Everest itself. The Sherpas whom he proclaims the true heroes of both Everest , the film, and Everest, the mountain. And Buddhists including His Holiness the Dalai Lama, the spiritual and temporal leader of Tibet, now forced to live in exile along with millions of his people.
Mr. Breashears is convinced there are vitally important lessons to learn climbing mountains, making movies or working on oil rigs. They all start with a willingness to humble oneself, to become an apprentice, to strive toward excellence. The goal is mastery and the masterpiece can be almost anything. For Mr. Breashears, it's been climbing mountains and making films.
Everyone attempting to scale Everest faces the extreme cold, sleeplessness and hypoxia that results from breathing air with only 1/4 the oxygen available at sea level. David Breashears had an additional hurdle -- to be creative in the face of the almost robotic dullness which sets in. In 1996, after all, he had returned for a third time to the world's highest mountain to make an IMAX movie. The resulting film not only captured the immensity and wonder of a physical world almost without life, it also documented the now infamous circumstances which ended in death for experienced and novice climbers alike
The film and its making also linked Mr. Breashears -- as it does the viewer -- to a quieter dimension of life, a spiritual place inhabited by people who co-exist with Everest and have no need to climb it except in service to others.  These are Sherpas and other Buddhists for whom Everest is part of life itself, not a goal to be achieved or an item to be checked off on a list of potential adventures.
Many of the things David Breashears has learned in these pursuits are not obvious. For instance, what is a person's most critical ally in climbing the world's highest peaks? Good habits. Or try this one:  What constitutes success when one pits oneself against Mt. Everest? Most Westerners think it's reaching the summit. Nope. The finish line is at the bottom, arriving safely back at base camp
Affirming life is Mr. Breashears' measure of success. Where does that affirmation and the strength that grows from it begin? In humility. Turns out, even mountaintop experiences share the same humble origins of all great lessons -- they begin within oneself and they end at the beginning.