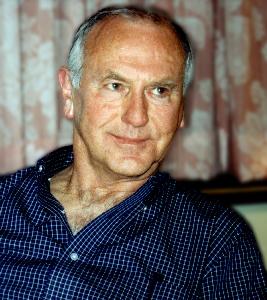 Walter Truett Anderson
. . . is a political scientist, a fellow of the Meridian Institute, and President of the American division of the World Academy of Art and Science. He writes regularly for the Pacific News Service. Dr. Anderson's books include Reality Isn't What it Used to Be, To Govern Evolution, The Future of the Self and The Truth about the Truth. He lives in the San Francisco Bay Area.

1:13

4:08
Who are We Next?
Everyday people are experiencing a new reality. The fancy word is "post-modern." Whatever you call it, you'll find the new condition in the stories we are all living. This changing reality is part of a vast evolutionary change through which the human species is going, according political scientist Walter Truett Anderson. He draws from work being done from philosophy to linguistics to brain research.
Dr. Anderson has been thinking about these things in public for over thirty years. He is a fellow of the future-focused Meridian Institute and the current president of the American division of the World Academy of Art and Science. He works internationally helping people use scenario planning to influence their futures and writes a column for the Pacific News Service. The titles of some of his many books are telling: The Truth about The Truth: De-confusion and Re-constructing the Postmodern World and The Future of the Self: Exploring the Post-Identity Society.
Language is central the kind of animal we are, says Dr. Anderson. Our linguist reality shapes today's post-modern era the way it has shaped our entire species. The result is that philosophy is now everybody's work. Our globalized, multicultural, information society holds belief systems as varied as people's rules for reality, proof and truth. It leaves us all struggling with deep philosophical issues like "meaning" and "identity."
It's time, Dr. Anderson believes, that we change our stories from the rigid one-dimensional tales about the self that start with "I am..." -- a story that too often ends in wars or genocide. Begin by thinking differently about the verb "to be." We are now all many things, he reminds us, as witnessed in the stories we absorb from the sports page, the Internet, the television and the theater, the school yard, the back yard, the board room and the coffee house. These stories are not about life, they ARE life. And they are no longer one-dimensional
This experience is not as foreign as it may sound. Women, according to Dr. Anderson, are a kind of vanguard for postmodernity. Circumstance (if not biology) have positioned women to adopt a variety of roles, to adapt and bend to circumstances, to live along side perspectives they may or may not share.
Our evolution is far from over, declares Dr. Anderson. We humans are going through an evolutionary knot-hole. Western philosophy's recent "linguistic turn" and recent discoveries by brain researchers are beginning help us come to terms with evolutionary ideas the Buddhists have been struggling with for 2,500 years. Enlightened consciousness is not something strange and inaccessible. It's right there in front of you. It's the way our brains work -- on many levels with widely different responses to a wealth of inputs.
Look closely at what is going on in your own life and you will be looking at the post-modern era. Some people find the flowering of differences frightening, others find it liberating. That is a choice we all make. It's a choice which will affect our species' evolution.