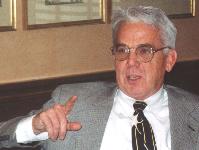 Jim Wooten
. . . editorial page editor, "The Atlanta Journal.š Mr. Wooten is one of America's most highly respected editorial writers. He is an award-winning veteran reporter who has been editorial page editor of "The Atlanta Journalšsince 1992. He writes often about politics and government and won a national editorial writing award for commentary about the state retirement system. He lives in metropolitan Atlanta.

3:43 secs
People are not dumb about the news, says "Atlanta Journalš Editorial Page Editor, Jim Wooten. Not dumb or random or chaotic. People maximize the time they have available, become as well informed as they feel they need to be, and decide what's going to enhance their quality of life.
As information explodes around us and the news business eyes a challenging future, Jim Wooten sees a special place for newspapers. Yes, most people want "factsš from newspapers, but with today's content proliferation, including the Internet, people no longer have to rely on "newsš for information. He thinks people can and should turn to editorial pages when they don't have the time to become knowledgeable about a particular case.
This means editorial page editors and writers have a special role (in addition to being honest, truthful and providing a reliable context,) Mr. Wooten says. And it requires trust, which is why Mr. Wooten still uses the skills and instincts he's nurtured over decades as a reporter, developing his own sources, personally "workingš important stories. (He urges us to be equally demanding of whatever sources we turn to for our information, particularly the Internet.)
Jim Wooten wants people to get comfortable with how he thinks and to feel free to disagree with him. His job, he believes, is to develop a relationship with editorial page readers, then help them refine their own views. That means those readers will want to know what Jim Wooten thinks -- a bold task he takes on three times a week in front of the world. In effect, every editorial declares, "This is what I believe, this is why I believe it, this is what my values are and this is the quality of my research.š So he puts a lot of time and thought and analysis and effort into his opinions. And invites people's responses.
Having lost their monopoly on facts, Mr. Wooten is convinced newspapers can now offer vision and leadership. Our communities are fragmented, he observes. Newspapers, he says, are uniquely positioned: to involve all of the diverse segments of a community; to draw them into discussion; to allow people to reach a consensus that represents who the community is and where it should be going; to help people know where they live; to reflect a city or region's history and values. Mr. Wooten thinks newspapers are the one institution broad-based and powerful enough to help re-capture a lost sense of community.
That's the role of editorial pages in re-forming that sense? They provide a common place where people can feel connected, can come together and talk about what they value, about how we are going to solve our problems, can engage without thinking they're going to be put down or belittled or ridiculed for their ideas.
Democracy or disintegration? Sounds like something for the editorial page.