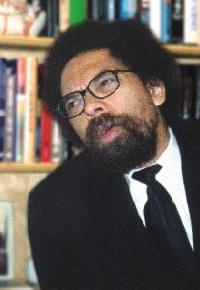 Cornel West
. . . Cornel West, scholar, philosopher/theologian and activist. A University Professor at Harvard, Dr. West is author of more than 20 books, including the bestseller , Race Matters. He won an American Book Award in 1993 for his two-volume work Beyond Eurocentrism and Multiculturalism. His latest book, co-edited with Henry Louis Gates, Jr., is The African American Century. Dr. West was educated at Harvard and Princeton, has taught at both, as well as Union Theological Seminary, Yale Divinity School and the University of Paris. A Public Intellectual, Dr. West speaks widely and is regularly featured in the mass media.

1:21

4:08
Jazz is more than music, it is a mode of being, according to the jazz man in the world of ideas, Cornel West. The same is true for democracy, he declares. It is a mode of being, not just a way to arrange authority.
The world is most assuredly being Americanized, Dr. West observes. If Americanization means democratization, heās enthusiastic. But he fears that something very different is going on -- that it is American sentimentality, immaturity and materialism that are infecting the rest of the world, the American dream reduced to prosperity, security and spectacle. He calls us back to the self-respect embodied in the Negro National Anthem -- "Lift Every Voice" -- reminding us that voicelessness is the lack of democracy in a world whose history recounts the domination of elites.
Like jazz, democracy is fundamentally about self-criticism, self-correction, self-examination, says Dr. West. It allows for society to engage in critical, reflective, experimental, improvisational modes of being. What does that mean? It means youāre against dogma. Against rigidity. Against orthodoxy in all forms, he maintains.
What links democracy and jazz? Energy. Joy. Both require the combination of individual performers and the whole group. Neither is about fetishized "success" or "winning." Both unleash sensibilities which are radically against the grain. They are processes that encompass all contexts and are not limited to the closed, controlled systems elites prefer. Jazz, like democracy, is always unfinished, open-ended, shot with contest. And dialogue is the life-blood of both.
Both also encompass the "blue notes." Dissonance. Defiance. They pull the cover off sentimental claims for harmony and liberty, get beneath superficial glitter and glitz to wrestle with history and its struggles; reality and its misery; forms of death that American mainstream culture evades and avoids.
Mystery is central to each. We are creatures toward death, Dr. West reminds us, hoping to find some compassion between womb and tomb. Just as the essential mystery of music is inexplicable, no political regime or social system can relieve us of the requirement to wrestle with meaninglessness and inevitable death.
Cornel West connects Louis Armstrong and Ralph Waldo Emerson, John Coltrane and Walt Whitman, putting an accent on the dialectical interplay between spontaneity and discipline, between individuality and community, between commitment and an ability to laugh at the products of oneās commitment -- inevitably imperfect.
What new world does Dr. West glimpse? The flowering and flourishing of unique forms of individuality in a democratic context that lures us to courage, vision, service, sacrifice. He sees us able to explore, examine and interrogate ourselves and the world against the backdrop of relative stability and fragility, knowing there is no end.
In this time of multiple contexts and many identities, Dr. West believes our most important identity is a human one. A democratic identity follows a close second. To be human at its highest level, he concludes, is to be at play. To live with style. To swing like Duke Ellington AND Muhammad Ali. To have the kind of joy that allows us to love, live, struggle. And die.
[This Program was recorded December 6, 2000 in Atlanta, Georgia, US.]