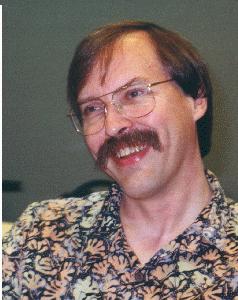 Larry Wall
. . . creator of Perl, a computer programming "glue" language. Mr. Wall is a leader in the open systems software movement and a linguist. In addition to creating Perl (now in 6.0,) Mr. Wall also authored other popular free programs available for Linux and UNIX, including the rn news reader and the ubiquitous patch program. He has worked at Unisys, JPL, NetLabs and Seagate and is currently a Fellow with O'Reilly & Associates, publisher of his books on Perl.

3:37 secs
[This Program was recorded October 14, 2000, in Atlanta, Georgia, US.]
A truly great computer programmer is lazy, impatient and full of hubris, says Larry Wall. Laziness drives one to work very hard to avoid future work for a future self. Impatience has the same endgame. And hubris is required for the newest Promethean fire -- inventing computer languages.
Larry Wall, the man with this unusual prescription, is a leader in the open source software movement, which includes Linux. He's the linguist who created Perl, the programming language which glues together much of the Internet.
Computer programming is not about computers, Mr. Wall insists. It's about humans. What drives Mr. Wall and others in the open source software movement? They have a sense of purpose: Improve the lot of humankind. To do that, they create software -- FREE software. And they share.
Mr. Wall sees a basic philosophical shift in the computer industry. Bigger companies which have traditionally kept their source code propriety are beginning to open up. Doing so has many benefits, according Mr. Wall and the growing numbers of people working (for free) in the open source software world. There are already many millions of Linux users, roughly a million Perl users, he reports. And the numbers keep growing.
Competition and cooperation are working hand-in-glove in this emerging part of the computer world, he says. Programmers have always shared code, Mr. Wall assures us, but recently they have realized that separate open source movements are merging into a single open source movement. His only concern is that this may stifle other good ideas. In the world of ideas, he is confident, diversity is as vital to growth as it is in the biological realm.
Mr. Wall reminds us that we invented computers to help us and they are our willing slaves. So why not let them do more work so people's lives can be more creative and joyful? That notion spurs him on in dreaming up new tools -- languages -- with which to do so. Perl is a good example. He describes Perl as a "glue" language. Perhaps he needed his special combination of lazy and impatient to invent Perl. It was born while Mr. Wall was at Unisys, trying to glue together a bicoastal configuration management system over a 1200 baud encrypted link using a hacked-over version of Netnews.
Since then, Mr. Wall and legions of people in the open source software movement have evolved Perl toward the 6.0 release on which the Perl community is currently working under Mr. Wall's leadership. Perl's two slogans in addressing software programming challenges do a good job summarizing Mr. Wall's approach: "There's more than one way to do it" and "Easy things should be easy and hard things should be possible." Larry Wall expects people to program Perl joyfully because they have choices which allow them to be creative.
Helping people help each other is Larry Wall's life-long calling. Perhaps we should rethink laziness, impatience and hubris.