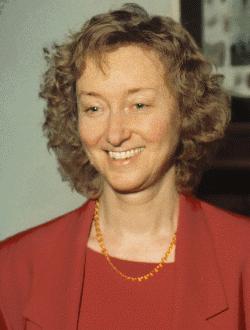 Deborah Tannen
. . . is a sociolinguist and author. Her #1 national best-selling book, You Just Don't Understand, explores the cross-cultural nature of communication between women and men. Now she's concerned about America's Argument Culture and suggests alternatives to today's often destructive winner-take-all war of words. Dr. Tannen is a professor of linguistics at Georgetown University and has written sixteen general audience and scholarly books.

3:19 secs
Everyday words are turning Americans into polarized cynics according to linguist Deborah Tannen. Our pervasive use of war metaphors reflects the confrontation and aggression we have institutionalized in our media, legal system, education and politics. Because all this contentiousness is undermining the human spirit, Dr. Tannen calls us all to disarm our Argument Culture (the name of her latest book) and stop America's war of words.
Deborah Tannen is the socio-linguist who gave general audiences a sense of how people communicate (That's Not What I Meant) and how women and men do it differently (You Just Don't Understand). Now she's looking much deeper. As a linguist, Dr. Tannen uses language is the entry-point of her analysis of relationships, while acknowledging the intertwining roles of non-verbal communication, emotions and ideas.
How did our culture became so contentious? We've talked ourselves into it, says Dr. Tannen. By appropriating the vocabulary of war, we're bound to end up with a fight. Aggressive language begets aggressive attitudes and behavior follows closely behind.
She offers a litany of institutions where aggressive language, war metaphors and either-or thinking are getting us in trouble: popular culture, the media, advertising and entertainment, electoral politics, our legal system, public and personal interactions.
Dr. Tannen believes words are powerful instruments that actually shape our relationships, create the landscape in which we live and interact. Our increasingly argumentative words are extracting a terrible toll. We bear the cost when policemen treat citizens as the enemy; when our legal system forces lawyers to put winning ahead of finding a just outcome; when our politicians ignore important minority voices that could enrich our civic conversation; when the media chooses extremists to argue issues instead of finding people voicing more moderate opinions. Debilitating cynicism is the result, displacing skepticism and breeding hopelessness.
What's the prescription for moving beyond our ethic of aggression? Reclaim compromise and conciliation in our own exchanges. Be more careful in choosing the words we use. Put ourselves in the other guy's shoes. Look beyond "the other side" to "another side" or "other sides." Re-frame polarizing choices to find a third -- or fourth -- solution. Take the "argument" out of our argument culture. We can live with what's left.