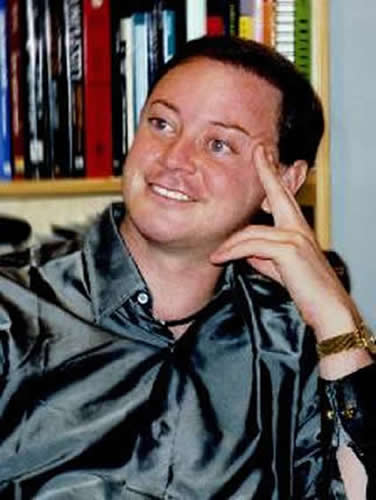 Andrew Solomon
. . . writer/reporter. Mr. Solomon's best-seller, The Noonday Demon: An Atlas of Depression, won the National Book Award in 2001. Educated at Yale and Cambridge Universities, Mr. Solomon writes regularly for The New York Times Magazine as well as The New Yorker and ArtForm. He is author of The Irony Tower: Soviet Artists in a Time of Glasnost and a novel which was a finalist for the Los Angeles Times First Fiction Award.

3:41
Everyone has some degree of vulnerability to depression, Andrew Solomon reports. We are all touched by it, directly or indirectly. It's true, he says, regardless of culture, class, or where one finds oneself in life. Mr. Solomon set out to describe his own experience with depression as accurately and clearly as he could -- he thought it gave him a certain authority as well as data. He also wanted to make available, objectively and lucidly, both the findings of modern science and other people's experiences. He succeeded on all counts.
We still know relatively little about depression and there is no cure, Mr. Solomon found. But there are a broad range of approaches to which depression is responsive. In America, he thinks, people are tempted to simply medicalized depression. A better approach, he believes, is to approach depression from as many different angles as possible. Resist over-simplifying. Attack depression from all fronts at once. The more treatments of which you are able to avail yourself and the more insight you have into what's happening to you, the better your chances are of pulling out, he believes.
Some things we do know about depression. There's a triggering event and the disease is cyclical. So the first thing Mr. Solomon advises is: If you're depressed, seek help! And do it as soon as possible. Preferably, find a doctor or psychiatrist who has the technology available to help pull one back from the brink. Mr. Solomon reminds us this an acute, scary condition that should be dealt with immediately. And isolation severely exacerbates depression. If you're close to someone in the throes of a depression, do whatever you can to mitigate their loneliness. Make them aware -- all the time -- that they don't need to be alone, physically or psychologically.
Then, Mr. Solomon says, seek some kind of therapeutic process which can help you come to terms with the depression and integrate it into a larger sense of yourself and your life. There are lots of paths for this, he assures us. But, he reiterates, the most important thing is to do something and do it soon.
Mr. Solomon is no Pollyanna. He speaks first hand when he talks about the fundamental loss of innocence when your mind turns against you for the first time. Forever afterward, he says, one works to avoid triggering a recurrence, acting with a certain degree of caution in all areas of life.
The biggest satisfaction Mr. Solomon takes in his widely heralded book is that he has been able to show how people manage to find meaning in depression. Nobody would choose to have a depression for its enriching value, of course. But if it's a fact of your life, he says, it's important not to close yourself off from the experience. Try instead, he urges, to look into what's happened, try to find out what you have learned from it and try to find ways it is fulfilling or enriching or giving you an understanding you did not have before.
Hope and love, Mr. Solomon reminds us, are vital to us all. He offers both to people who are the most vulnerable to the experience of depression which is part of being human.
[This Program was recorded April 4, 2002 in Atlanta, Georgia, US.]

52:30