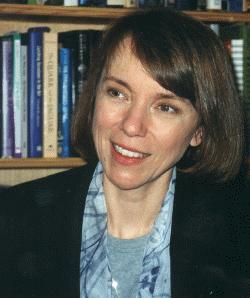 Sue Shellenbarger
. . . is a business journalist. She has written the "Work & Family" column for The Wall Street Journal since 1991, and published a book of the column's essays using the same title. She began her writing and editing career with the Journal in the early 1980s and is the former chief of its Chicago news bureau. She has also served as a contributing editor and columnist for Parenting magazine and as a financial markets columnist for the Associated Press. She combines her work life with an active family of her own.

3:21 secs
Business and industry faces a threat to productivity, new product development and competitive advantage. It is the failure to treat their workers as whole human beings. This conclusion is not from some far-out think tank or interest group. This is what Sue Shellenbarger has found reporting for the Wall Street Journal ,where she writes her regular "Work & Family" column.
Bottom lines suffer when people burn-out and drop-out. Enterprises see productivity plummet and competitive advantage erode when their people have no time to pay attention to fundamental human relationships, starting with families and the natural world of which we are a part. Individuals loose their way. Families -- especially kids -- are stressed. And the larger community is diminished.
The struggle is as old as the Industrial Revolution, when the serious wedge was first driven between family and work. Curiously, the acknowledged seduction of today's business world, while still intoxicating, is no longer enough. Shellenbarger characterizes today's workers as alienated. She's observed that alienation in all kinds of workplaces, from the highest tech to the factory floor to the ranks of disaffected managers. What's missing? Balance. And respect. Workers have noticed.
Women and young people particularly are beginning to challenge assumptions the Organization Man took for granted. That's a model which legions of women emulated when re-entering the workforce in the 1970's and 1980's. But many -- men as well as women -- are now questioning the excessive commitments demanded of them at work, increasingly aware of the toll they pay, their families pay, our ailing communities pay.
Strong bottom-line pressures are driving the best businesses to rethink how they operate, especially those who wish to compete for the long haul in a global knowledge economy. The good news is that when business gets serious about not burning out their workers, not only do people's lives improve. There is also competitive advantage to be had, profit to be made.
We're only beginning to see business respond to workers' pent up demand that fundamental human needs be met. The booming economy helps. Now if companies really want cutting-edge products which are breaking new ground, they must create an environment which will enable workers to be the most they can be, Shellenbarger is certain.
Rhetoric alone won't do it. Real changes must be made. It's simple. Treat people as whole human beings. That requires connections to people and things that matter and a healthy environment in which to work and live. When those fundamental needs are met, there's growing evidence that everyone -- individuals, families, the larger community AND businesses -- reap the rewards.