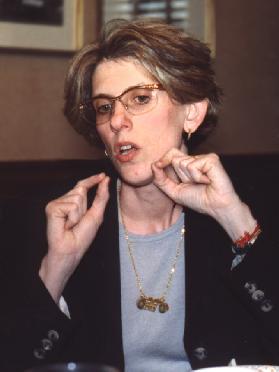 Juliet Schor
. . . is an economist, writer and scholar. A senior lecturer at Harvard University, she is also Head Tutor in Women Studies there. In addition, Dr. Schor is professor of the economics of leisure at Tilburg University. She lives in Newton, MA, with her husband and two children who watch no television.

3:15 secs
Working more, spending more, enjoying it less? Is it The American Way or consumerism run amuck?
Some people, including economist Juliet Schor, are beginning to question the underlying assumptions of what she calls a consumerist mentality. Once most Americans could meet basic biological needs, spending took on a heightened social meaning. Spending has become a social phenomenon, consumerism now builds on our fear of being marginalized in our social groups. That fear has costs. Schor's question: Is the high cost of all the stuff we're accumulating worth the escalating costs to our families, communities and the planet?
While consumption and income have trended up in the past 25 years, quality of life indicators have trended down. Schor thinks this is no accident. She sees us eroding our daily lives by working too much so we can spend too much. We're undermining our social bonds and destroying the planet in pursuit of material goals which are leaving us empty. The proverbial "Joneses," with whom Americans have been trying to keep up for decades, have moved out of the neighborhood. They now reside in our slick magazines and live on television. Schor's research shows that a person spends (and does not save) $208 for every hour of television he or she watches. We keep "up-scaling" toward "Joneses" in the top of America's economic strata while the disparity between that them and the other 80% of us keeps growing. It's true. It's literally impossible to "keep up."
A growing number of Americans have already walked away from "up-scaling." They've chosen to "down-shift" instead. They've changed their lifestyles to earn less money, work less and spend less -- the three tend to go together. The results can be both an appreciable improvement in one's sense of well-being and a more secure financial footing.
Economist Schor sees today's global consumer economy resting on short-term thinking and built on the backs of exploited workers, worldwide. To correct today's imbalances is going to take all of us acting as consumers, workers, shareholders and citizens, requiring our economy, our governments and our companies to act more responsibly.
Schor's a shopper herself, but says she has no taste for hair-shirts. Think. Question. Be conscious and conscientious when you do buy things. Seriously investigate the effects of "up-scaling" and the things in your life. Walking away from all that stuff the Joneses have accumulated may just give us back the things we value most -- time, family, community and a sense of well-being. The choice is ours.