There's nothing wrong with people using what lives in the sea, according Carl Safina, but there's something terribly wrong with people using the oceans up. Safina's a scientist and one of the growing number of voices sounding an alarm that the abundance and vitality of the world's oceans is at serious risk. We're treating the ocean like it's the last buffalo hunt, Safina says, fishing down and fishing out the coastal areas of the world.
Carl Safina is respected world-wide as a scientist. He is an adjunct professor at Yale University, founder of the National Audubon Society's Living Oceans Program, which he directs. Safina's book, Song for the Blue Ocean, is being compared in importance to the dire news Rachel Carson delivered in Silent Spring decades ago.
Ordinary people, world wide, are beginning to pay the price in lost jobs and cultures, lives ruined, land destroyed and wild creatures disappearing in record numbers as we plunder the seas and coastlines of the world. In the United States alone, depletion caused by overfishing costs $8B and 300,000 jobs a year.
It's OK to be selfish about this, according to Carl, who says he eats more seafood than anyone he knows. If we don't begin to protect the wild creatures of the sea, they won't be there to eat. That goes for tuna and salmon, swordfish and sharks and a host of other ocean wildlife. And aquaculture won't solve the problem. Unlike cabbages which grow on sunlight, fish still eat fish, even when they are grown in captivity. Energy inefficiencies, habitat disruption, pollution and displaced local people accompany much of the world's attempts at aquaculture.
There are people pointing the way out of today's dilemmas. They're Carl's heroes. They are struggling, he says, but not unrealistically. He sees us making inroads. 1997 was declared The Year of the Reef by the United Nations, 1998, The Year of the Ocean. In the U.S., we now have the Sustainable Fisheries Act . There's currently a lot of pressure to do away with provisions of the Act before they're phased in, but getting it passed at all would have been politically infeasible only five years ago. Politicians are beginning to realize that depleting species is not just an "environmental" issue, it also costs money and jobs. Lots of jobs.
Carl Safina has encountered alarming realities along the world's coasts and beneath the seas. He's described what happens when humanity is viewed in a business context, rather than business in a human context. The informed public will respond once they see beneath the surface of the world's oceans, he insists. So he carries on. We have to have hope, he contends. If we don't have hope, we're hopeless. And hopeless, for Carl Safina, is simply not an option.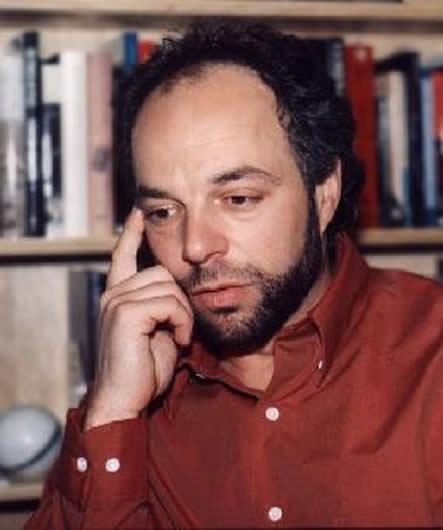 Carl Safina
... founded the Living Oceans Program at the National Audubon Society, which he directed until founding Blue Ocean Institute. An internationally regarded scientist, he is an adjunct professor at Yale University, served on the Mid-Atlantic Fisheries Management Council, the Smithsonian Institution's Ocean Planet advisory board and the World Conservation Union's Shark Specialist Group. Carl is an avid fisherman who eats lots of seafood.

3:29