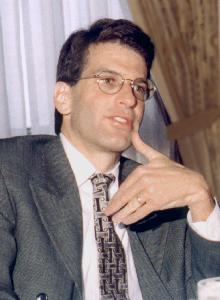 Jeff Rosensweig
. . . is an international business and finance professor at Emory University in Atlanta, GA. He has served as senior international economist at the federal Reserve Bank of Atlanta, worked with a number of international companies, is frequently quoted in the national business press and seen on television discussing economics. He publishes widely in academic journals and is author of Winning the Global Game. With economics degrees from Yale and a PhD from MIT, his master's degree from Oxford is in philosophy, politics and economics. A highly regarded teacher, Rosensweig's faculty colleagues elected him to chair Emory's Center for Ethics in Public Policy and the Professions.

3:22 secs
In the coming global economy, 5/6s of the world's people will be in the Middle East, Southwest Asia and Africa, not Europe and Japan or even China and India. These people will live in the very places where, today, only a handful of companies are investing.
More than economics is at stake in how we shape the emerging global economy, according to Jeffrey A. Rosensweig, professor of finance and international business. Ethics are key. Today, 1.3 billion people subsist on $1 a day. Are we willing to accept a world shadowed by the vicious circle of poverty-population-environmental degradation (PPE)? How do we break that circle?
Put capitalism to work, Rosensweig urges. Create a "win-winš capitalism. While Rosensweig acknowledges that inequalities within capitalist societies are real, he points to the United Nation's Human Development Report to remind us that societies which have not embraced capitalism usually have generalized impoverishment.
Specifically, Professor Rosensweig urges business and investors to make direct long-term investments now in the infrastructure of emerging economies where most of the world's people will live. There's money to be made doing so, he's confident, but it's long term gain and not to be confused with portfolio investing where short-term hot money chases the quick buck. The other half of the winning equation, of course, is that host countries must learn to work with foreign investors.
Rosensweig is optimistic that "capitalism with a human faceš -- not "pure capitalismš -- gives us the tools and experience with which to break PPE's vicious circle, if investors and far-sighted business leaders take a long-term approach. Link profits to economies which today are under-served and under-invested. Create opportunities for people in emerging economies to enter the information age as knowledge works and the global economy as consumers.
Women may hold the key, Rosensweig thinks. First, women represent half of humanity's leadership and talent potential. And we now have ample evidence that when women and girls have education and economic opportunity, they have fewer children and build better lives, whether they live in Newark, New Jersey, or in developing nations where childbirth is still a deadly risk for the mother. But if women are to be knowledge workers, we must also break the bonds of illiteracy which entrap billions of women (99.2% of all the women in Africa would not recognize their own written names).
Jeffrey Rosensweig makes clear that the global economy ensures that PPE's challenges are everyone's problem. Successful capitalist countries and emerging economies alike have lessons to learn. Linking people and profits in the global economy is a very good long-term business decision. It's also the right thing to do.