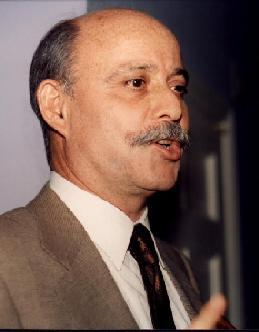 Jeremy Rifkin
. . . is President and Founder of the Foundation on Economic Trends in Washington, D.C. He regularly shares his ideas with Congress, industry and the American people. He has a degree in economics from the Wharton School and another in international affairs from Tufts. The author of 14 books on economic trends and matters relating to science, technology and culture, his latest is The Biotech Century.

3 min:22 secs
Harnessing fire made civilization possible. Now we've harnessed the gene and can shape life itself. Jeremy Rifkin believes we're already in the midst of a shift as fundamental as that from medieval agriculture to the industrial age. He's spent thirty years making people aware of challenges which technology, science and economics pose. He now foresees "The Biotech Century."
What happened? A convergence of the revolutions in information (computer hardware and software) and biotechnology (gene splicing.) We now have the technology to take genes from totally unrelated species and directly influence the evolution of all life forms, change the evolutionary destiny of our species and all others. And we want many of the changes which this new ability offers, from health to the marketplace. But the question is: How do we chose to apply our new technology? Rifkin urges we think about the consequences of our actions -- from constructing plants that include animal genes to eliminating recessive human genes from future generations of humans -- before we let this astonishingly powerful genie further out of the bottle.
This is no abstraction. Living matter is at the heart of our civilization as well as being the bulk of our economic activity. Genetic engineering can be applied to everything that involves life -- our food and drink, all of agriculture, medicine and pharmaceuticals, fibers and building materials -- everything that has a living origin.
Public policy implications are enormous. For starters, we must begin to challenge the authority of the marketplace which this revolution will dramatically impact, worldwide. What happens when our children become "the ultimate shopping experience"? What happens when we come to think of life as intellectual property now that all of the genes of the human body are being patented? How can we protect genetic privacy and genetic rights?
Rifkin does not call us to "say no" to science. Instead, he urges we be very careful of the technologies we use to apply to what we are learning. Always pick the technology that's the more prudent, the more conservative, the less radical. Ask fundamental questions. Challenge authority. Our traditional intellectual habit is to dominate nature by brute force from a position of detachment, isolation, power and control from a distance. Instead, encourage those scientists looking for connections, relationships, working to understand the context and webs of life so we can better understand how things relate to each other. Both paths are available. Only one will eventually prevail.
Both optimism and pessimism are inappropriate, according to Rifkin. Instead, act to steward future generations. Be ombudsmen for other creatures who are not here -- human beings, other animals, all the life forms with which we travel. Life itself depends on us fulfilling this mission.