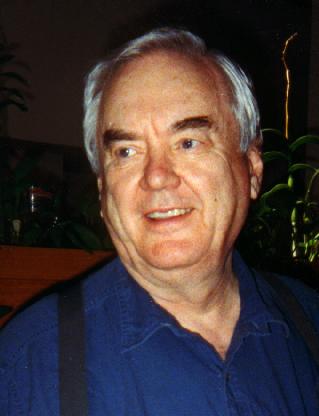 Robert W. Funk (1929 - 2005)
. . . was a distinguished biblical scholar, Guggenheim Fellow and former senior Fulbright Scholar. Dr. Funk was executive secretary, then president of the prestigious Society for Biblical Literature. He founded The Jesus Seminar in 1985. Dr. Funk is Director of the Westar Institute. In addition to being a scholar, teacher, and gifted linguist, Dr. Funk has written more than a dozen books, including The Five Gospels: The Search for the Authentic Words of Jesus.

3:10 secs
Jesus of Nazareth was an iconoclastic sage who rejected rules, focused on actions, had no myths and was not apocalyptic. This Jesus is a far cry from the icon created for a variety of theological and political reasons by the institutionalized Christian Church, according to Dr. Robert Funk, founder of The Jesus Seminar and author of Honest to Jesus.
The Jesus Seminar which Dr. Funk founded in 1985 now includes 200 interdenominational, international scholars, writers, philosophers and theologians working to catalog Jesus' sayings and deeds, then present profiles of the Jesus they've discovered. Before the Jesus Seminar could answer their fundamental questions about the historical Jesus --"What did the historical Jesus say?" "What did he do?" "Who was he?" -- they had to do an entirely new translation of the Gospels (known as the "Scholars' Version.") For over a decade now, the Seminar's been engaged in linguist "detective work,š doing their scholarly homework, going back to the ancient texts, examining every word.
"We see our task as historians to 'bring Jesus near,' closer to our everyday world. We were forced to do a new translation to get back into an idiom which approximates what Jesus said rather than serving the Gospel's liturgical purposes, the church's theological and political ends.
"Jesus was very demanding! He made up new stories, laughed at human foibles, saw us as we really are. He made people uncomfortable. We concluded the 'Golden Rule' is not appropriate on the lips of Jesus who reduced 'self-awareness' to zero. 'Neighbor' is the measure of all things, not 'self.' Jesus died for this principle," asserts Dr. Funk.
Funk sees humans everywhere in the world transforming how we understand the Universe and our place in it.
"The Judeo-Christian world is a special case of the basic mythic story people have lived by for four thousand years. The Enlightenment and Industrial Revolution collapsed that cosmic shelter. Science is revealing an open-ended universe with an oncoming future, unknown and unknowable, not fixed or predetermined. That's exciting! And challenging. We have internal compasses we can trust when we choose to be honest, give up lying and dissembling. That's hard. But we're not without moral anchors, from across the ages, guides to whom we can turn for guidance. The real Jesus is just such a person, a social critic, dissident and sage."
[This program was recorded April 9, 1997, in Santa Rosa, California, US.]