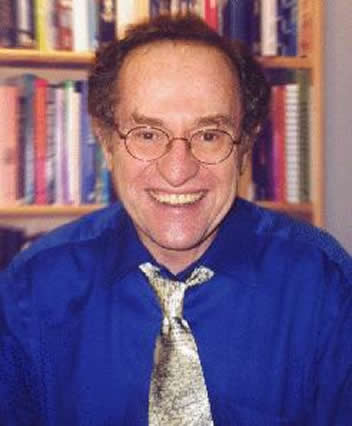 Alan Dershowitz
. . . lawyer and scholar. Mr. Dershowitz is the Felix Frankfurter Professor of Law at Harvard University. Known for defending the accused in high profile cases, Mr. Dershowitz is also a litigator, columnist, lecturer, book reviewer and prolific author. His most recent book is The Genesis of Justice, in which he suggests Biblical roots for Western justice.

3:36
Justice is not a natural act for humans, according to Alan Dershowitz, litigator, Harvard law professor and author. We're like other animals, he believes -- hard wired to acquire, to kill, to eat, to reproduce. We have to struggle for justice. That's why justice will always be a work in progress, always a quest, a reaction to injustice.
Mr. Dershowitz found this insight in the Old Testament Book of Genesis. He says it's full of stories of injustice. Mr. Dershowitz also finds the seeds of democracy there -- the willingness to question authority and to require authority to justify its actions. He explores these themes in his latest book, The Genesis of Justice.
The book of Genesis, according to Mr. Dershowitz, can be read as a metaphor for the progress of human civilization. Genesis, he contends, provides the predicates for making experience the life of the law. It starts with rules without reason and moves through human experience toward common law and, finally, the codified laws exemplified by the Ten Commandments.
Quite a burden for stories that have traveled with us for millennia. In fact, Mr. Dershowitz believes, the Bible itself is so enduring precisely because those stories are so compelling. The Bible has remained vibrant through the ages, Mr. Dershowitz suggests, because it is a lively, divinely inspired metaphor whose stories require us to get involved, to experience the essential struggle of humans toward justice. The need to participate was especially keen before the advent of laws but continues to this day because laws must change as times change.
Mr. Dershowitz continues to be fascinated by and drawn to the Bible because its stories never give answers, forever raise questions, and are always in need of reinterpretation. He believes, in fact, that Genesis instructs us to argue with God. Mr. Dershowitz goes further. He believes the God he finds in Genesis is, like justice, a work in progress. Throughout Genesis, God and the Hebrew people learn from each other.
Injustice has certainly not gone away, Mr. Dershowitz assures us. Today, economic disparities are returning us to a condition of brute force, where status all too often overwhelms justice. We have two systems for justice -- one for the poor, one for the rich; one for Western democracies, one for others. To Mr. Dershowitz' practiced eye, "Justice, justice shalt thou pursue," turns out to be as fresh today as it was in Biblical times.
[This Program was recorded April 7, 2000, in Atlanta, Georgia, U.S.]