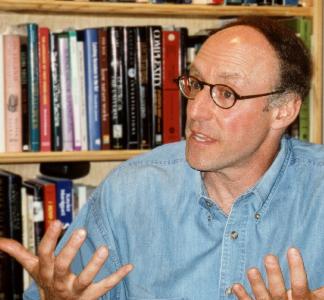 Michael Pollan
. . . writer/reporter. In The Botany of Desire, Mr. Pollan reports on deep and powerful relationships between humans and plants. In addition to writing books which include Second Nature and A Place of My Own, Mr. Pollan is a contributing writer for The New York Times Magazine. Among his many awards for writing are the QPB New Visions prize and the first Reuters-World Conservation Union Global Award for Excellence in Environmental Journalism.

3:36 secs
[This Program was recorded June 19, 2002 in Atlanta, Georgia, US.]
Without flowers, humans would not be and we owe our existence to them, says Michael Pollan. Flowers' food energy, stored in seeds and fruits, allowed mammals to get big and human's brains to get bigger. Mr. Pollan takes a plant's eye view, mindful that humans are part of nature, not apart from it.
Human desire is a simple fact of natural history, he says. Flowers are an excellent example. They spent their first 90 million years on earth evolving to gratify the desires of pollinators -- bees and moths. Suddenly, 10,000 years ago, they refined their strategy, gratifying the desires of people who could travel all over the world, use their tools and big brains to disturb the soil and trade with each other, respond when plants modified their looks. Think tulips in Holland. Or Johnny Appleseed/John Chapman in America. Mr. Pollan elaborates on these stories and more in his recent book The Botany of Desire. It presents a series of graphic reminders that evolution is not over and humans are not at some kind of evolutionary pinnacle.
Today, monocultures are a growing threat, Mr. Pollan reports. We're all implicated in the monoculture story, he says, because our cultural ideals are what drive monoculture. One common experience -- we want our french fries to be perfect and fast food outlets want us to buy their fries. So they buy only Russet Burbanks from farmers who grow Russets and none of the 2,500 other varieties of potatoes in the world. Remember the Irish Potato Famine? If we all eat the same thing, coast to coast and around the world, we're going to plant the same thing all around the world. Mr. Pollan is convinced that cultural diversity and biological diversity go hand in hand.
What we do ... matters. And we all have wonderful ways to vote, Mr. Pollan says, ecologically and evolutionarily. We all make important little evolutionary decisions at the grocery store or when we place our order at a restaurant. We drive what's going on at the farm with our purchasing decisions. We can choose to eat this and not buy that. Yes, we can choose blue or gold potatoes and avoid the One Beautiful Fry. Monocultures are products of the marketplace and agriculture, Mr. Pollan says, not nature.
Some humility is in order on our part, Mr. Pollan counsels. The human genome with 35,000 genes puts us somewhere between the round worm (20 to 25,000 genes) and rice (50,000 genes). (He considers this as profound a blow to our sense of our specialness as when Copernicus showed us the earth isn't the center of the solar system.) And it wasn't all that long ago, he reminds us, that we gave up our extremely successful hunter-gatherer lifestyle. Our co-evolution with plants didn't stop with nutrition. Or apples that are red. Plants continue to gratify other desires, too -- from the relief of pain to a longing for transcendence. And, of course, they gratify our desire for beauty.

[This program was recorded June 19, 2002 in Atlanta, Georgia, US.]