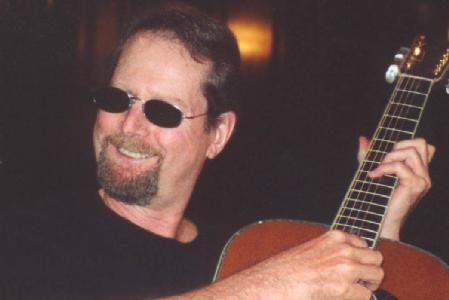 Roger Mcguinn
. . . musician, Rock & Roll Music Hall of Fame member. A staple of the NYC and LA music scene even before founding the influential ő60s band, The Byrds, with Gene Clark and David Crosby, Mr. McGuinn continues touring the world as a solo artist. His distinctive style, impressive musicianship, familiarity with the entire musical spectrum and eagerness to share his gifts have earned him legions of faithful fans around the world, across four generations. The "Roger McGuinn, Treasures from the Folk Denš CD celebrates Mr. McGuinn's roots in folk music, with legendary guests including Pete Seeger.

3:30 secs
[This Program was recorded August 1, 2001 in Atlanta, Georgia, US.]
Music feeds our souls, says Roger McGuinn, a founder and lead guitarist of the legendary ő60s Rock & Roll band, The Byrds. It's one of the staples of the soul's diet, he's convinced after a lifetime in the music business. Roger's in the Rock & Roll Hall of Fame for his genius at incorporating blues and jazz and classical genres, and now, after a lifetime touring the world and collecting fans across four generations, Roger's returned to his roots in folk music. Why? Because he worries about it, he says, fears it will get lost.
Folk songs' wonderful stories still give Roger goose bumps, he says, and so do their wonderful melodies. They are history, he's convinced and we learn from history. Folk songs tell about whole segments of life that are now gone. Cowboys' songs. Slaves' songs. The songs of sailers going around the world in square-riggers, singing to synchronize the work of pulling up the anchor, singing to fill spare time. These are experiences worth saving, he days, and tunes to steal the heart.
His advise to aspiring performers? Be there. And be prepared. His own story looks like a fabulous game of dominoes. Elvis Presley inspired the young "Jimmyš to start making music in high school. Lots of practice and good timing conspired to catapult him overnight from $10/night gigs in Chicago coffee houses to a job with The Limelights at a time when the music scene was headed for dramatic changes. Miles Davis (whom Roger never met) put in a good word with Columbia Records which got Roger and the newly formed Byrds their first big recording contract. And striking innovations on the powerful Bob Dylan song, "Mr. Tambourine Man,š thrust The Byrds into the forefront of Rock & Roll. In fact, the Beatles called The Byrds their favorite American band.
But great performances, Roger has found, require great audiences. They are part of the show, feeding back to the performer who does even better when each feeds the other. Roger laughingly wishes there was something like an audience school, to teach people not to sit there with their arms folded, looking grumpy. Four generations of his fans must have gone to that school, for they stand up and cheer the music he loves wherever he plays, all over the world. Now, a whole new generation has come to appreciate the folk music he's rescued at his website.
What's the source of Rock & Roll's magic? Its synthesis of dramatically different elements, he believes, having himself played a pivotal role in that revolution -- folk and rock, reggae and rock, jazz and rock, blues and rock, the way the Beatles took a Phil Spector beat and mixed it with bossa nova and blues and jazz and classical and whatever else they could find. Roger still listens to everything, he says: classical, jazz, opera, country, reggae, hip-hop, girl bands and girl singers, boy bands and guy singers like Ricky Martin. Yes, Rock & Roll is a hodgepodge, he says.  And almost 40 years later, Roger McGuinn still thinks Rock & Roll is ... wonderful.