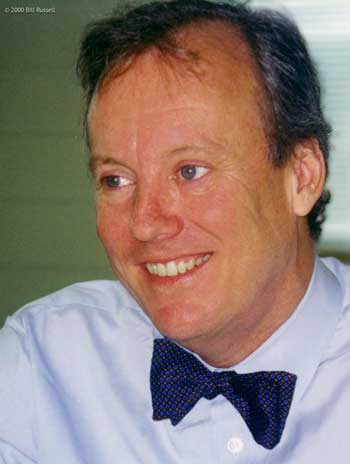 William McDonough
. . . architect and designer, founding principal of William McDonough + Partners and McDonough Braungart Design Chemistry, setting new standards for design quality, environmental sensitivity and functional effectiveness, internationally. Mr. McDonough helped launch the "green buildings" movement and leads what he christened "The Next Industrial Revolution." He is professor of architecture and business administration at the University of Virginia, and a former Dean. He was lead architect for the award-winning Lewis Environmental Studies Center at Oberlin College. Mr. McDonough received the Presidential Award for Sustainable Development and is a Time magazine Hero of the Planet.

3:26
How much time do you spend in buildings -- offices, factories, schools, homes, shopping centers and stores? Those buildings -- our habitats -- fascinate William McDonough, internationally acclaimed architect, designer, teacher and philosopher. Mr. McDonough is among those leading us all into what he christened "The Next Industrial Revolution." It's a dramatically new system of industry based on ecosystem thinking.
Mr. McDonough is working with clients who lead some of the world's most prestigious corporations and institutions -- The Gap, Herman Miller, Nike, Palm, and The Ford Motor Company -- heavy hitters doing a trillion dollars worth of business, annually, worldwide. What Mr. McDonough calls eco-effectiveness starts at the level of molecules and the idea scales all the way up through products, buildings, cities and regions beyond architecture to the entire basis of modern industry.
To accomplish his ambition -- re-engaging the world of productive human commerce with the world of productive nature -- Mr. McDonough and his colleagues have created a far-reaching "fractal ecology of thought, related to the design of the future of the making of things." He places his faith in commerce because he believes that is where sovereignty now lies, confident that commerce is honest and quick.
Mr. McDonough never looses track of solid business principles. Being highly profitable gets and holds a client's attention. Take architecture as an example. The direct costs of Mr. McDonough's daylight, fresh air and bird song drenched buildings are about $46/square foot. A bare metal shed costs $34/square foot. Even so, he's adamant that when a CEO is performing the executive function properly -- focusing on strategic issues, recruitment and retention, keeping employees happy and productive -- the cost of a building is "chump change."
How does William McDonough makes his ideas tangible? Imagine a building as sophisticated as a tree: able to make oxygen, sequester carbon, fix nitrogen, distill water, accrue solar energy as fuel, make complex sugars into food, build soil, change with the seasons, create microclimates and self-replicate. That was Mr. McDonough's goal as lead architect of what The New York Times describes as the most remarkable of a new generation of university and college buildings -- the Lewis Environmental Studies Center at Oberlin College.
Often, Mr. McDonough says, he's accused of engaging in fierce common sense. Yes, he's had a revelation, he assures us, but it's an obvious one known to ancient designers. They lived in their spaces, had to understand them, couldn't subvert, evade or control them. So they had to connect.
Our manifest destiny is no longer where we're going, Mr. McDonough believes. It is understanding and celebrating where we are, in the presence of other species. He challenges us to ask: What is our story? For William McDonough, the story is all about design -- and hope. After all, as he's quick to point out, we are all native peoples.

[This Program was recorded September 16, 2000, in Oberlin, Ohio, US.]