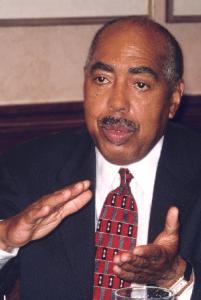 Walter Massey
. . . President, Morehouse College. Former director of the National Science Foundation, Dr. Massey was provost and senior V-P/academic affairs of the University of California where he oversaw the U.S. Department of Energy's National Laboratories; V-P/Research at the University of Chicago and director of the Argonne National Lab; and dean of the college and full professor physics at Brown University.  A Morehouse graduate, Dr. Massey received his master's and Ph.D. in physics from Washington University and has studied quantum liquids and solids. Widely honored, Dr. Massey sits on major American corporation and foundation Boards and is active in national and international organizations.

3:46 secs
[This Program was recorded September 14, 2001 in Atlanta, Georgia, US.]
Race and ethnicity do not equal "diversity,š says the distinguished President of Morehouse College, Dr. Walter Massey. He's convinced Morehouse is among the handful of places approaching people's differences effectively. How can he talk about "diversityš from within an all-male, predominantly black college? Easily, Dr. Massey maintains. Look, as Morehouse does, to the true differences individuals bring to situations, groups and societies. And since Morehouse students come from all kinds of backgrounds, from all over America and 22 other countries, they are asked to look at the differences within their own student body. Dr. Massey reminds us, if reminding is needed, that we cannot assume people are the same because they may look more alike than different.
Dr. Massey is also the former head of the National Science Foundation (NSF).  He has been at the highest levels of America's educational institutions, currently sits on the Boards of some of the world's leading corporations and foundations and is, in addition, a research physicist. So Dr. Massey feels no need to stop with higher education as he broadens the definition of "diversity.š A significant strength of the entire American research enterprise, he believes, is in the diversity of the ways in which scientists can seek money to support research (though he is quick to remind us that such money is in distressingly short supply.)
nd variety is also one of the great strengths of America's education system itself, Dr. Massey maintains. He thinks it is stronger by virtue of the many quite different, successful models we have from which to learn, all around the country -- from schools that have environments so open that there are no classes at all to those which are strict and have hierarchically arranged curricula. While Dr. Massey is confident there are things that standardized tests can successfully assess, he reminds us there are probably as many ways to evaluate learning as there are ways to learn. So he urges caution toward testing, concerned that we not lose any of the richness variety offers.
Dr. Massey's experience as a youngster educated in the 50s in America's South is a sharp reminder to stay open to surprise.  He recalls excellent black teachers, often much more qualified than their white counterparts. Why? Because Mississippi denied black college students access to its own universities, paying instead for them to go North -- where they often received superior educations.
ow, Dr. Massey is a veteran of decades of different approaches to integrating American campuses. His question, he says, has consistently been, "What is the end goal?š His answer: To educate people who can live in a multi-racial, multi-cultural society and do more than just get along, adults able to respect each other and themselves, in the society. That requires, he believes, that students have a full sense of their own culture, respect for their own background and principles, and confidence in themselves.  People must be able, he says, to meet as equals across their differences, whatever they may be. That's the appropriate goal for all of education, he says, not just enough racial variety among students to look good on campus. The former, he assures us, is precisely what Morehouse College -- Dr. Martin Luther King, Jr.'s alma mater -- and other academic institutions who are succeeding in this domain, are all about.