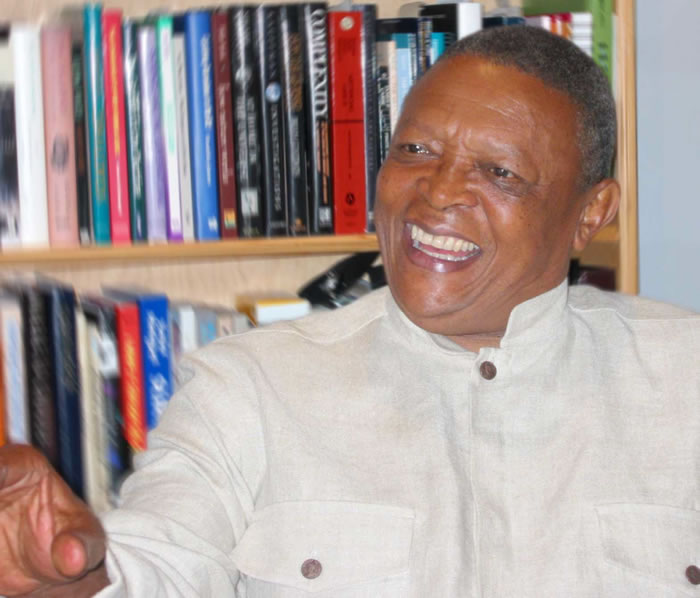 Hugh Masekela
...musician and freedom fighter. Audiences around the world have been riveted by Hugh Masekela's performances for more than forty years. His 40 albums have together sold more than five million recordings. He played a key role in bringing South Africa's music and struggle against apartheid to the world. Mr. Masekela tells his remarkable story in Still Grazing: The Musical Journey of Hugh Masekela, in collaboration with D. Michael Cheers, who teaches at the University of Mississippi. When he is not touring the world, Mr. Masekela and his family live on a farm near Johannesburg, South Africa.

1:18

3:58
Music and South Africa's struggle for liberation are inseparable -- from each other and from the life of the great jazz trumpeter, Hugh Masekela. Obsessed by music as a boy in South Africa, Mr. Masekela escaped the oppression of his homeland when he was 21 to study music in New York City. There he became friends with most of the people he'd idolized as a youngster and by his late 20's, Hugh Masekela had a world-wide hit with "Grazing in the Grass."

Keeping his eyes on the prize -- freedom for his people, struggling against the brutalities of South Africa's apartheid -- is what helped him survive the mania of fame, Mr. Masekela's says. (His working title for his autobiography was "Lucky to be Alive.") The struggle for that prize is at the core of his life. And music was the foundation of that struggle, he says, ever mindful that it was a struggle fought by the whole world. Living in exile for 30 years, Mr. Masekela remembers that he may not have been ready for fame, but he was always centered: he knew that there were people suffering where he came from and that those people were, as he puts it, the people he sourced from. And wherever in the world Hugh Masekela was, he says, there were people pushing, like the South African liberation struggle itself.

Everything, Mr. Masekela says with certainty, is affected by politics. He lives by the words of a friend who insisted that as soon as you walk out of your door, you're heading into politics. Mr. Masekela remembers another friend, Marvin Gaye, admiring the fact that Mr. Masekela -- who in addition to being a master trumpet player also is a powerful singer -- sang about things other than love. Where he came from, Mr. Masekela pointed out, there was no love. He hopes that he was at least a catalyst to his friend Marvin, who later made history with "What's Going On?"

It's a seamless transition from Hugh Masekela's conviction that music was the real foundation of South Africa's struggle to talking about his friend Paul Simon and the controversial "Graceland" tour. When approached by Mr. Simon early on, Mr. Masekela felt sure the tour would bring down the wrath of the apartheid movement. And that it did. But in the end, Mr. Masekela says, "Graceland" was the first time in the whole world that music had an effect that rippled up the hallways of governments. And to him, "Graceland" will always stand as the highest milestone of how music affected the world.

More than a decade after South Africa became free, Hugh Masekela applauds the country's leadership for challenging the nation to free their oppressors and to live by what he believes is the world's most extraordinary Constitution. But Mr. Masekela saves his highest praise for the people of South Africa themselves. He salutes their resilience and their charitability as a people, confident that the world will never be able to repay them for what they have done -- for all of us.

[This Program was recorded May 28, 2004, in Atlanta, Georgia, US.]