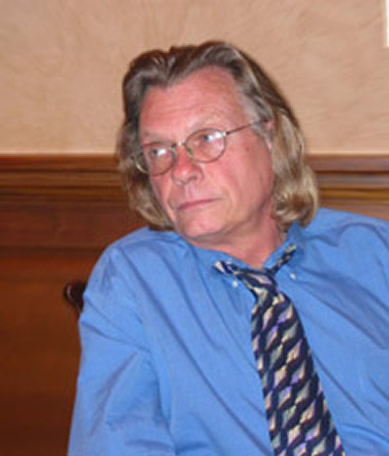 Thomas Lux
. . . poet. Internationally acclaimed, Mr. Lux's awards and grants include the prestigious Kingsley Tufts Poetry Award, three Pushcart Prizes, three NEA grants, and a Guggenheim Fellowship. The Cradle Place is his 10th book of poems. Mr. Lux is the Borne Chair in Poetry and director of the McEver Visiting Writers Program at the Georgia Institute of Technology, after 27 years at Sarah Lawrence College, where he directed their M.F.A. Program in Poetry. He has served on the M.F.A. faculties of major universities including Columbia, Michigan, Iowa and California, Irvine.

3:33
Poetry's great power is its ability to make us more human and alive, less alone, to offer solace and insight and healing ... even if only a little, according to Thomas Lux. He's part of a poetic resurgence being experienced around the world.

Thomas Lux is an internationally acclaimed poet. No surprise there. But most people are surprised to learn about "Poetry@Tech" which he directs at Georgia Tech. That's the Georgia Institute of Technology, where Mr. Lux teaches poetry, as he did for 27 years at Sarah Lawrence College. Georgia Tech is said to be the only university in America with not-one-but-two endowed chairs for poetry. Mr. Lux holds one chair and fills the other with acclaimed visiting poets he brings to campus and shares with metropolitan Atlanta.

Mr. Lux acknowledges that for decades, poetry was often obscure, felt uncomfortably like riddles requiring decoders. Thanks to his efforts and those of a growing cadre of increasingly popular poets, poems are, once again, alive and accessible. The result has been an explosion of interest in poetry, in the venues where poets read, dozens and dozens of new publishing houses and more and more contests with grants available.

What happened? Mr. Lux gives a lot of the credit for today's worldwide poetry revival to "spoken word" or "performance" or "slam" poets. They brought poetry back to the human voice, its ancient home, and their poems were comprehensible -- they no longer made people feel stupid.

But we don't love poetry just because we understand it, Thomas Lux says. We love it for the crazy stuff it does for us, how it moves us, the way it reminds us of how we are human. He's convinced that the best poems are understood both on a literal level and by the reader's body and gut and heart. He has taken as his mission to write poetry that does both. And he's eager to be a good servant to language, mindful that he is never its master.

Yes, poetry is everywhere, says Mr. Lux. But poems don't just begin or live in a some kind of sublime state of mind. If you want to turn that poetic moment into a poem, start sweating. Poems are "made things," a process of trial and error and discovery and, most often, failure. Remember, poetry is not only an art form, it is a craft with a million little details. Pay attention. You have to learn the rules before you can break them. Serious writers must have the entire tradition, going back thousands of years across all cultures, in their bones. Then be clear enough. Try to have something interesting going on, some imagination, metaphor, music, things rubbing up against each other to create friction, some tension in a poem. Sincerity alone is as deadly as it is naive.

Know your craft. Then hide it, he advises. Craft succeeds best when it is invisible, heightening whatever the crazy stuff is that we love in a poem. Just ask the millions of people who are flocking back to poetry ... and loving it.
[This Program was recorded October 17, 2003 in Atlanta, Georgia, US.]