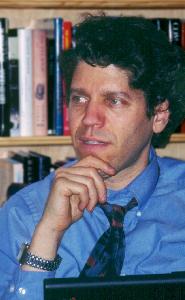 Paul Rogat Loeb
. . . activist. An associated scholar at Seattle's Center for Ethical Leadership, Mr. Loeb's several books include Soul of a Citizen: Living with Conviction in a Cynical Time, and Hope in Hard Times. Mr. Loeb was educated at Stanford and New York's New School for Social Research. For years, he was editor of "Liberation" Magazine and has written for a wide range of publications including "The New York Times," "Washington Post,"and the "Los Angeles Times." Mr. Loeb regularly appears on national and international television and radio, lectures and leads workshops on social responsibility.

3:06 secs
How do you change the world? One citizen at a time, making choices, acting from the passion for the truths that we all hold in own hearts, says Paul Rogat Loeb. In more than 30 years as an activist, Mr. Loeb has experienced the importance of rebuilding community, convinced that the act itself has a profound effect.
Where to start, when there are so many burning issues? It matters little, as long as one DOES start, he believes. Whether committed to change on the grand scale, for which one will never see the fruits of one's labor, or to a neighborhood challenge which can be improved by simply paying attention, Mr. Loeb champions the act of engagement itself.
Engagement, he believes, is required for a people committed to governing itself. Participation matters. Citizens participate in public life. There is no place there for the contempt that goes with the cynical smirk. Cynicism, jaded distance, perfectionism -- all enemies of democracy, Mr. Loeb insists. His are the stories of real people making hard choices in real time, people grappling with tough issues others think intractable. His tales are many, exemplars of seemingly powerless people, effecting significant changes, in decidedly improbable places.
Mr. Loeb thinks people's real connections have become blurred by a present-day idolatry -- idolizing position, status and stuff. Our connections, he maintains, are to each other and to the Earth. They are what allow us to get out of our small, isolated, hunkered-down selves, he says, out of what he calls our little gated communities of the heart. First, we have to open the gates.
Mr. Loeb is part of a long tradition which he honors, people who witness in the public square -- whether serving in soup kitchens or cleaning up littered parks, working for major policy changes which improve the lives of millions or helping a condo association get along. If his work is about one thing, he says, it's an embodied argument against neutrality, the sort of attitude that gives people permission to stand on the sidelines of life and watch it all go by.
Yes, vote. Then go out and be heard, he urges. Speak from your own experience, whatever it is. Don't be shy. Bring what you know to the village square, however humble your experience may seem. It's the only way the larger world will hear from the people most directly affected by all the decisions, small and large, that shape our lives together.
Mr. Loeb spends much of his time on college campuses, inspiring young people across the political spectrum to get involved in something bigger than themselves. His goal? To challenge the cynicism and intimidation many feel in the face of Big Everything. Don't proceed blindly, he cautions. Be prepared to learn, to be open-minded, to change one's mind, even to ask forgiveness. But do proceed.
[This program was recoreded May 14, 1999, in Atlanta, Georgia, US.]