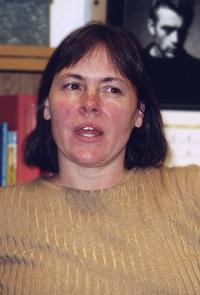 Elisabeth Lasch-Quinn
. . . historian. Author of Race Experts: How Racial Etiquette, Sensitivity Training and New Age Therapy Hijacked the Civil Rights Revolution, Dr. Lasch-Quinn is professor of history at the Maxwell School of the University of Syracuse in up-state New York. Her prior book, Black Neighbors won the Berkshire Prize. Dr. Lasch-Quinn is also a frequent contributor to "The New Republic."
The American Civil Rights Movement was hijacked, according to historian Elisabeth Lasch-Quinn. She's discovered that extremist ideas about identity cross-fertilized with a culture of therapy (remember encounter groups?) Instead of harvesting the fruits of a transforming moral Revolution, Dr. Lasch-Quinn believes, America went for self-awareness movements, identity politics and social engineering in the form of diversity training.
Dr. Lasch-Quinn is troubled that with this hijacking, we lost opportunities to develop the civic skills necessary to become a genuinely democratic society. She's concerned that citizens are now reduced to caricatures and we seem willing to settle for self-segregation instead of a truly just society. And she fears this is dangerous.
Elisabeth Lasch-Quinn didn't go looking for a lost Movement. She was surprised when she found "identity" as a defining goal coming out of the Black Power movement of late 60s. At that same time, she found a culture of therapy and self-growth blossoming, courtesy of the Human Potential movement and its tell-all encounter groups. Dr. Lasch-Quinn is confident America's Puritan heritage was also a factor, but instead of the religious individualism which called people to reform themselves so as to improve society, self-obsession became the end in itself. The result of this brew, Dr. Lasch-Quinn believes, is 30 years of obsessive concentration on the individual.
Enter "diversity training." The foundation of this pervasive and lucrative business, she discovered, is America's century-old taste for social engineering. Diversity training and trainers may have started out well-meaning, she would like to think, but Dr. Lasch-Quinn identifies strong authoritarian strains behind the apparent hyper-egalitarian posture which diversity trainers and multi-cultural educators take. She is also deeply skeptical of self-proclaimed race experts whose premises about race she believes are often simply wrong.
Dr. Lasch-Quinn calls us back to the promise of The Movement, work we have not finished. A democratic society must face hard questions that go well beyond race, she's confident. What would Dr. Lasch-Quinn have us do?
Stop obsessing about ourselves and learn to live together in an ever-more pluralistic society. Reclaim the hopeful, rich vision of citizenship that drove The Movement. Stop relying on unproven race experts. Dismantle diversity training. Then slow down and think about what we're doing. Seek out genuine moral authorities and find thoughtful leaders. Grapple with how we learn to live together as a community. Develop skills of civic cooperation. Finish the work to which millions of brave women and men dedicated their lives, worked for, died for: a Greater Good, beyond themselves, in a genuinely democratic society.

[This Program was recorded November 5, 2001 in Syracuse, New York, US.]