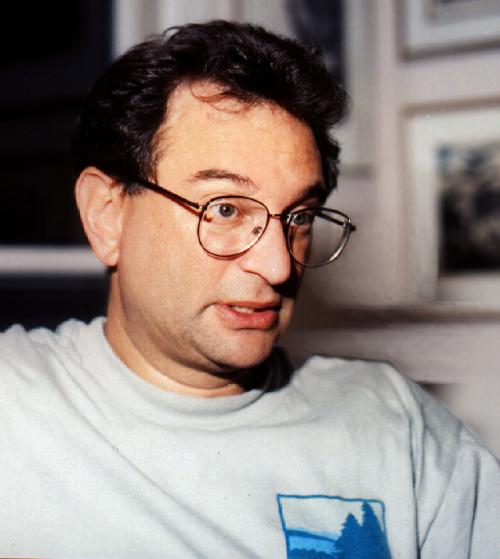 William J. Kramer
. . . was president of Sidney Kramer Books for almost 30 years, the prestigious Washington, DC, book store his father founded. Kramerbooks & afterwords, Bill's creation in 1976, helped shape what "bookstore" now means. Kramer now spearheads The Knowledge Initiative, a collaborative project in human capital development and capacity building through world-class resource centers -- bringing the Internet, books and people together. Bill is also deeply involved in privacy issues, courtesy of Special Prosecutor Ken Starr. The Kramer family lives near Washington, DC.

3:30 secs
How people get and share knowledge is an increasingly urgent question as we enter the information age. Given the increasingly competitive global marketplace, people in developing nations risk being crowded out of the information mainstream. At the same time, those of us in the developed world stand helpless as publishing becomes an increasingly market-driven (rather than content-driven) industry. If our intellectual economy drowns in an economic one, we put ourselves at great risk. Books, it turns out, still matter.
Bill Kramer was born into the book business and has spent his life there. His father founded Sidney Kramer Books in Washington, DC, just after World War II. Sidney Kramer Books became internationally know for having -- or getting -- books on politics, economics, and area studies, issues involved in rebuilding a world devastated by war. Following his father's death and having graduated from college, Bill Kramer became President of Sidney Kramer Books in 1968. In 1976, Bill created Kramerbooks & afterwards. It was known first as the cafe-book store which changed the face of American bookstores, then for Special Prosecutor Kenneth Starr's subpoena of sales records which threatened the privacy of us all.
Kramer's stories about books, the publishing world and technology parallel the world's post-World War Two era, including the demise of Sidney Kramer Books in 1997. But Kramer's not content to sit back and decry the declining condition of the publishing world. He demonstrated with Kramerbooks & afterwards how effectively books grease the wheels of social intercourse. Now Kramer's creating The Knowledge Initiative. With it, he hopes to bring together people, books and the Internet -- a technology which he believes is absolutely revolutionary. Gather local people in emerging economies together. Enhance their ability to survive in a changing world economy by giving them access to reliable data bases organized around industry sectors. Provide them with a resource center -- what we used to call a library but with education and training facilities attached -- which ties print and digital information together, where knowledge is valued and accessible, regardless of format. Let them learn from each other and the rest of the world. Create a non-national human community. The Knowledge Initiative is piloting these very ideas in South Africa (telecommunications) and in The Czech Republic (forestry).
The Marshall Plan helped rebuild the world after World War Two. Carnegie Libraries gave millions of Americans access to the world of knowledge. Bill Kramer's vision is to bring these two powerful ideas together in the emerging world. He believes the only way to stave off disasters looming on the future's horizon is to let people everywhere come together, across national lines, to figure out how long a lever is required to move the world.