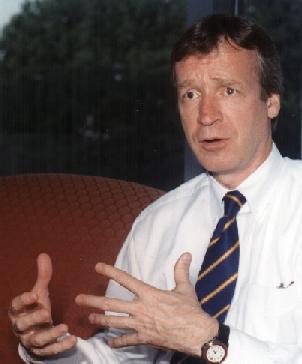 Peter Kostmayer
. . . is the Executive Director of Zero Population Grown (ZPG) which was founded in 1968 to educate people about population issues. Mr. Kostmayer was a United States Congressman for 14 years, representing a district that stretched from Philadephia into the Pennsylvania countryside. He travels widely in support of ZPG's current emphasis on issues of urban sprawl, the decay of inner cities and meeting the challenges of teen pregnancy

3:18 secs
Big problems are solved with little fixes, one person at a time, according to Peter Kostmayer, Executive Director of Zero Population Growth (ZPG) and a former Congressman. The exploding human population is one of the biggest problems in the world. It's also one of the easiest to solve, says Kostmayer. Fertility rates comes down when women's education and economic levels go up.
ZPG and Kostmayer want to educate the American public about population. At our current rate of growth, the number of people on earth will double in 50 years. That means 12 billion people compared to today's 5.9 billion. Population growth is not "a Third World problem.š Fifty percent of all births in America are unintended. Urban sprawl, the deterioration of inner cities, crime, overcrowding, traffic congestion, teen pregnancy are all "population problems.š Good news: when family planning services are available, people use them.
It's best when parents teach kids about sex at home and when teenagers abstain from sex. But neither is happening. And only about 5% of our kids in K-12 have sex education in school. ZPG helps educators, parents and teenagers face the problem.
ZPG also realizes population problems are more than just overcrowding. How we use resources is also critical. Americans are only 5% of the earth's people but we use 1/3 of the world's resources and produce 1/2 the waste. An American couple with 2 children has a far greater impact on the environment than a Tanzanian couple with 12. What kind of world will it be when everyone in the world has our lifestyle and there are twice as many of us?
Urban sprawl is a resource issue and another focus of ZPG's attention. In spite of evidence to the contrary, there's hope here, too. For example, the people in Portland, Oregon wanted to preserve the open spaces beyond their city from the real threat of creeping urban sprawl. They elected officials who created an "urban growth boundary.š It's a big circle around Portland within which most growth must now happen. The boundary is working. In fact, Portland actually tore down an automobile freeway to put up a light rail line. And three statewide attempts by developers and the real estate industry to repeal the boundary have failed.
Think small. Don't wait for Washington, leadership's coming from the bottom up these days. Get involved with non-profit organizations. Work with your neighbors.  Elect local officials. Save local parks. Make life better for one kid at a time, including your own. People solve problems. Individuals will have to solve the population problem and all the problems it creates. "Good worksš are key. There's a bonus. Doing "good worksš feels good, too.