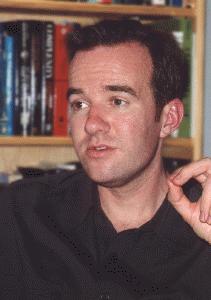 Tom King
. . . reporter. David Geffen, an enormous force in American popular culture for more than 30 years, is the subject of Mr. King's biography, The Operator. Mr. Geffen's influence includes music, the movies and Broadway theater. Mr. King is entertainment reporter for "The Wall Street Journal," based in Los Angeles.

3:23 secs
In a world where American popular culture has a global reach, David Geffen matters. He is a one man symbol -- a dominant force in American television, movies, and music for more than 30 years. Tom King, entertainment reporter for the "Wall Street Journal," concluded that Mr. Geffen is the only living person in show business currently worthy of a full-scale biography. Hence, The Operator.
David Geffen has turned good acts into superstars (the Eagles; Crosby, Still & Nash; Joni Mitchell; Jackson Browne) and signed superstars no one else could touch (John Lennon and Bob Dylan). He was the money behind "Cats" on Broadway and the casting genius who propelled Tom Cruise to stardom. And he's one-third of Dreamworks, the first new studio in more than half a century.
What distinguishes Geffen is his gift for figuring out what the rest of us will like. There's a magnetism to Geffen so extraordinary it cannot be measured, says King. Geffen's smart, yes, but also charming, apparently irresistible to artists who have sought the sanctuary Geffen promised (and then recoiled when that sanctuary was sold, e.g., Asylum records.) Geffen also listens. He's had a lifetime of "Rabbis" -- personal mentors who included titans of the music business, talented business lieutenants, and artists. (Jackson Browne told Geffen to sign Linda Ronstadt and Glenn Frey, suggested Don Henley and his buddies could be The Eagles.) That makes the countless stories of Geffen's personal, often vitriolic, about-faces all the more stunning.
Mr. King applauds Mr. Geffen as a guy who likes good, clean, entertainment, as a philanthropist, as a man to whom we can safely entrust our culture. But these do not qualify Geffen for role model or hero, says King. Mr. Geffen gets what he wants. He's obsessed with a need to control. He may not like violence on the screen, but Mr. Geffen is legendary for verbally drubbing people into submission, on the telephone and in person, reports Mr. King.
At the same time, King believes the Hollywood context exacerbates and plays to the dark side of corporate culture. As a business reporter, Mr. King witnesses artists and the executives who deal with them acting in different -- often colliding -- worlds. Yes, entertainment is a crazy business. Geffen, King says, is simply an extreme case.
In the end, perhaps the man who seems to know us so well is also the embodiment of an ancient cautionary tale. This son of Russian immigrants who adored the glitter of the entertainment world and was determined to be rich has netted more than $3 billion. And David Geffen is alone.
[This Program was recorded March 28, 2000, in Atlanta, Georgia, US.]