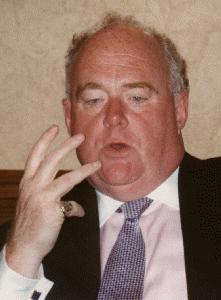 Don Keenan
. . . trial lawyer and child advocate. Mr. Keenan, one of 100 attournies in the "Circle of Advocates" and its youngest president to date. He has for over 20 years been a plaintive's lawyer dedicated to the well-being of children. With pro bono cases for neglected and abused children featured in the national media, Mr. Keenan has been described by the "Lawyers' Weekly" newspaper as "the leading child advocate in the United States" and the "Voice of the Voiceless" by others.

3:36 secs
Children are treated as personal property -- chattel -- in most Constitutional cases, according to Don Keenan. He has spent a lifetime calling on democracy's last line of defense -- 12 ordinary women and men, sitting on a jury -- to protect those children when legislators, regulators, state agencies, public opinion and the media have turned a blind eye.
Don Keenan has a national practice as a trial lawyer and child advocate. He is one of the 100 attorneys in the "Circle of Advocates" and was its youngest president. Mr. Keenan is described by the "Lawyers' Weekly" newspaper as "the leading child advocate in the United States" and the "Voice of the Voiceless" by others.
The American legal and regulator systems, Mr. Keenan insists, leave our kids virtually defenseless. The only rights they have under the Constitution are those which Supreme Court justices acknowledged when Mr. Keenan took a foster care case to them in the 1980s. ╩He successfully argued that at least children in the State's care should have the rights we extend to felons in prison. Twenty years later, horrific abuses of children in foster care continue, he maintains, pointing to his current (pro bono) "Terrell" case against the State of Georgia.
It's not just kids in foster care, vulnerable as they are, he assures us. There are no national safety standards for toys, even though Mr. Keenan can quote the Consumer Products Safety Commission declaring 96% of the 40,000 daily serious injuries to kids -- 14,000,000 a year -- "preventable." Gun locks are optional in a country where every two hours, a gun kills a child. Migrant children are virtually exempt from fair labor and safety laws. And the list goes on. Why? Mr. Keenan cites two reasons. Children are powerless and special interest lobbies powerful. And American adults put their own interests ahead of children's.
There's nothing wrong with the Constitution, according to Mr. Keenan. It just needs to apply to children, too. Until then, adults must demand kid-friendly legislation and regulation. Yes, Mr. Keenan acknowledges, change comes incrementally, with time and a lot of work. So Mr. Keenan fights on in the defense of children, particularly children in foster care, under the too-often-blind eye of States who allow abuses to continue. His grisly documentation seems to have no end. But a beginning? Consider that, on average, 70% of the people in prison came out of long-term foster care. Wouldn't it be better to care for our young and weak, than fear who they will grow up to be?
[ This Program was recorded September 22, 2000 in Atlanta, Georgia, US.]