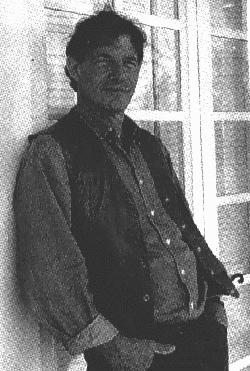 Stuart Kauffman
Stuart Kauffman is a member of the Santa Fe Institute. He is an experimental and molecular biologist who is widely acclaimed for his work with self-organization and the science of complexity as applied to biology. A recipient of a MacArthur fellowship, Kauffman is also a physician (though he no longer practices) and author of At Home in the Universe, written for a general audience and published by Oxford University Press in both hardcover and paperback.

3:25 secs
Expect Life in the Universe. It's not a surprise, not a fluke, nor a statistical improbability. Life is inevitable, believes Dr. Stuart Kauffman in conversation with Paula Gordon and Bill Russell. Dr. Kauffman is an experimental and molecular biologist at the Santa Fe Institute for the Study of Complex Adaptive Systems, a MacArthur Fellow and author of At Home in the Universe, published by Oxford University Press in both hard cover and paperback.
"Complexity breeds solutions, joyfully expanding possibilities," says Dr. Kauffman who sees the Universe as forever new, coherent, and transforming. "The more creative we are, the more creative we can be. If we are indeed all deeply linked to each other and everything else on the planet, that's a wellspring of hope."
Dr. Kauffman is a very careful traditional scientist. He also challenges many assumptions which have been taken for granted for centuries. For example, he describes the Second Law of Thermodynamics -- all natural systems wind down -- which has commonly been cited as a cause for despair. "But the Second Law of Thermodynamics only applies in an equilibrium state. And we've now demonstrated the Universe is in a radically NON-equilibrium state. The Universe is not falling apart. It's enthralling, creative, participating. And life is a natural outcome of a creative universe. We are part of an unfolding universe of increasing complexity in which living things have co-evolved with other living things, mutually make livings together, are functionally coupled and mutually unfolding."
Dr. Kauffman clearly states his premises -- established, accepted scientific orthodoxies. Then he ventures into the territory of his hopes for and vision of the proto-science which is now unfolding. He's relentless in distinguishing one from the other, "science" from "proto-science." "Proto-science" is one of the most exciting and least talked about parts of science. "It's where questions are formulated, new ideas emerge which can later be formalized and tested. It is a joyous enterprise."
Those who say we are at the end of science are just wrong. All kinds of deep questions remain for us to confront. The answers to those questions touch technology, the economy, individual possibilities -- life. Science has a long way to go, we're just cracking the beginning."
Dr. Kauffman's work and that of his colleagues in a range of disciplines from chemistry to economics further convince him that our world is profoundly unpredictable: we cannot know the outcome of our actions. Therefore, we would all do well to "Do your best; you can never predict the outcome."
A later conversation with Dr. Kauffman (with full audio), focusing on work presented in Investigations, is available here.
Two programs recorded in March, 2008, center on Kauffman's Reinventing the Sacred are available here and here.