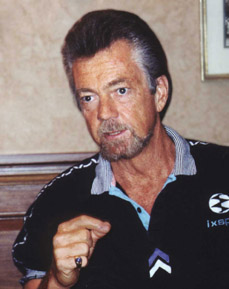 Stephen J. Cannel
. . . is a writer, the man behind such classic television action shows as The Rockford Files, The A-Team, 21 Jump Street and The Commish. Mr. Cannell is also a bestselling author of novels including Riding the Snake and The Devilís Workshop. In addition to being a successful businessman, Mr. Cannell effectively deals with his challenges as a dyslexic.

3:59 secs
What do Albert Einstein, Thomas Edison and Stephen J. Cannell have in common? Dyslexia. It's a brain condition in which the creative right side dominates. Cannell, hugely successful in Hollywood and as a novelist, says it's English teachers who are confused, not dyslexics. Spelling is not writing. And writing is what Cannell does.

Cannell is a prolific writer. He is the creator of classic television action shows including "The Rockford Files," "21 Jump Street," "The Commish" and more than 30 other series, more than 1500 episodes in all. He changed how Hollywood does business before leaving television to write 5 best-selling novels. Steve Cannell may spell idiosyncratically, but the tales he has spun are at the heart of America's largest export -- the entertainment business.

Cannell is a writer's writer. The craft, he believes, brings art and entertainment together, with a nod to Steinbeck, Fitzgerald and Elmore Leonard. Stick to storytelling's basic three act structure: Define the problem in the first act; Complicate the story at the top of act two and let that curtain fall on the hero's plans destroyed; Solve both the original and more complicated problems in the third act. It works, says Cannell, who has proved it over and over and over again.

Please don't confuse the characters with the actors who play them. It diminishes both. And it irritates the stew out of the writer.

Another caveat: don't be deceived by the glitter and glitz of showbiz. There is no "Hollywood" anymore. Cannell is part of the reason. He started the trend of taking American television production to Canada, where he built Canada's largest studio. Now the entertainment industry is just a collection of individuals, Cannell reports, some better behaved than others. Yes, creative people are tightly wound, it comes with the package. The successful ones are also highly disciplined -- television, especially, is a business of deadlines.

Cannell, a veteran of independent production, decries the sameness he sees in today's television programs. He believes young network executives fail to understand what makes a writer great. It's a great ear for dialogue that counts, not seeing an 18 to 34 year old face in the mirror.

Cannell leaves the spelling to his secretary and the English teachers. He's content to push out the boundaries of his own knowledge so that he can tell us yet another story. How many ways can you spell "success"?