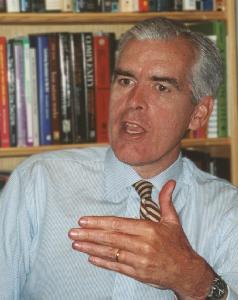 Philip Howard
. . . culture observer. Mr. Howard is managing partner of an international law firm in New York, and author of The Death of Common Sense and The Lost Art of Drawing the Line. He has advised policy makers in both major political parties and worked on reform initiatives with governors and public officials. Mr. Howard has led a number of community initiatives, including working to save New York's Grand Central Terminal and to block a tower that would have cast a shadow across Central Park. A native Southerner, Mr. Howard currently chairs a leading civic group in Manhattan, where he and his family live.

3:53 secs
[This Program was recorded May 21, 2001 in Atlanta, Georgia, US.]
The fear of lawsuits is distorting America, according to Philip Howard, Esq. We're neglecting our common good for fear someone will sue us, Mr. Howard says, concerned that what he calls extended individual rights are devastating our social fabric. He cites authorities from judges and school principals to health care providers, Little League coaches, supervisors, parents and playground supervisors who look fearfully over their shoulders for potential law suits and ask "Who am I to judge?š instead of "What's the right things to do?š
A system that works, Mr. Howard believes, is one where people make judgments and are held accountable for those choices, accepting risk as part of life. He contrast that to what he sees today -- those in charge at all levels looking at rule books and arguing about the rules, as individuals and their lawyers exploit the system for extravagant gain.
How did it happen? Innocently, he says. In the wake of what Mr. Howard calls America's racial awakening, the judicial system realized bad values were embedded in laws. So they worked to become value-neutral. Of course, rules are needed to provide standards, Mr. Howard says, but ultimately, he is convinced human judgment must have primacy. People need to do what they think is right in fulfilling their responsibilities, whatever they are, not defer to the courts and judicial processes people have come to fear.
The challenge stretches from America's playgrounds to our hospitals, our civil service to insurance claims, says Mr. Howard, managing partner of a large international law firm in Manhattan. He's all in favor of protections but believes we've muddied that water. Due process was created to keep government from taking a person's liberty or property, but not to protect individual incompetence. Checks and balances are important as a way to assure people take action based on what they judge to be right and wrong, not to be agents of paralysis.
His prescription? Start with ourselves. Instead of worrying someone might sue, do what we think is right and be accountable for what flows from that decision. Accept that life includes risk and make our choices according to how much risk we are willing to take. Then let judges hear from legislatures and appellate courts that a judge's job is to set the boundaries of reasonable dispute. Prevent litigation from being an extortive devise. See to it that people can bring claims only that the law permits and only for amounts that seem reasonable in the circumstances. Whose rights are we protecting?  Mr. Howard suggests that to restore a balance between the rights of the community and those seeking private gain, we will all have to make some judgment calls.