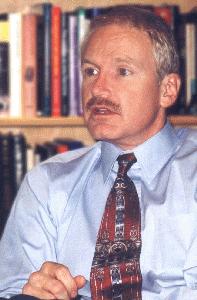 Carl Hausman
. . . is a journalist. He is critical of the half-truths, deceptions, double-talk and ambiguities which infect today's advertising, politics and media,.Mr. Hausman holds a Ph.D. in journalism. He has worked in television, radio, as a newspaper writer, magazine publisher and online content developer. He teaches journalism at Rowan University is Glasssboro, NJ. Author of 20 books ranging from ethics and science to business, Mr. Hausman's latest is Lies We Live By.

3:35 secs
Statistics are like bikinis, according to Carl Hausman. They reveal what is enticing but conceal what is vital. Mr. Hausman is a journalist who has worked in television, radio, magazines, publishing, politics and and public relations. He's particularly interested in complex social issues -- of the 20 books he's written, Mr. Hausman's latest is Lies We Live By. Statistics have a featured role -- in advertising, politics and the media. People who play with statistics have a lot to conceal, he reports.
Deception is pervasive, according to Mr. Hausman. And it's corrosive. Mr. Hausman's quick to assign responsibility to the people and institutions who manipulate us. But they can't do it without us, Mr. Hausman reminds us. We all tend to accept things a little too easily. We don't ask the next question of news reports or of come-on advertising or of telephone solicitations or of politicians. We're content with good visuals on television when we'd be better served to find out what's behind the story. The same goes for small print. Read it.
Hausman has other tactics for separating truth from deception. Use common sense. Read magazines and newspapers which take an opposing view. (People on vastly different parts of the political spectrum often find themselves in agreement on particular issues -- far left liberal feminists agree with the far conservative right about pornography.) When Mr. Hausman reads opposing points of view, he says it makes him uncomfortable. But it also helps him find new ways to look at things that don't rely on statistics.
Deceit and deception are common currency. Another Hausman prescription: Complain! Share your dissatisfaction with the authorities who regulate the industry or the advertising or the activity you find distasteful or objectionable. Recruit local newspaper/television/radio reporters.
Telephone solicitors drive you nuts? Mr. Hausman just refuses to do business with any of them. Instead, he urges US to get on the ╬phone. When he worked in newspapers and political offices, the assumption was one telephone call represented the 10,000 people who did not call. Make yourself heard when the airline service is bad, when the credit card fine print is unacceptable or if you're fed up with "veiled variables" in the advertising or editorial material in your newspaper, magazines or mailbox.
The deliberate manufacture of disinformation is polluting the system for everyone, Mr. Hausman reminds us. It's takes particular advantage of unsuspecting elders and reduces too many of the rest of us to cynics. Mad as hell? Don't take it any more.