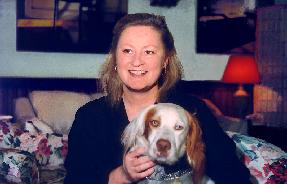 Margaret Hagen
Margaret Hagen has a Ph.D. in developmental psychology from the University of Minnesota.  She studies visual perception, searching to understand the relationship between what we have in our heads and what goes on in the world, including the relationship between size, distance, shape, slant, color. She currently teaches at Boston University. She is a prolific author with a number of books and articles to her credit. Her dog and cat were welcome participants in this conversation.

2:53 secs
Boston ų Americans strongly believes in psychology -- almost half of us have had psychotherapy.  The problem is that psychology as a scientific discipline is in its infancy, according to experimental psychologist Margaret Hagen. Were the battle lines between experimental and clinical psychology limited to arguments in university psychology departments, an experimental psychologist calling clinicians "seminariansš might be amusing. However, this is much more than a squabble in the Ivory Tower.
Psychology plays a major role in America's courtrooms. That dramatically elevates the importance of "what's science.š America has over a million psychological clinicians from psychiatrists to counselors and the "psycho-expert industryš makes over a billion dollars a year as "expert witnessesš at all levels of our courts. Professor Hagen makes a powerful case for "the fraud of psychiatric testimony and the rape of American justice.š
Having a "paid friendš is fine according to Professor Hagen, but don't confuse "insight therapyš with science. Science is based on hypothesis testing, independence from the scientist, believing things are true only when proven to be true, and on clear and consistent definitions. Only a tiny fraction of psychology meets these criteria.
Dr. Hagen categorizes clinical psychology as "classical junk scienceš -- based on belief rather than physical evidence that can be consistently replicated. In 1993, the Supreme Court defined, for evidentiary purposes, what constitutes true science, but the implementation and impact of that decision have been erratic.
Nowhere in the profession of clinical psychology is there a requirement for a patient's informed consent to therapy.  Even psychiatrists are exempt from this standard medical practice. A good place to start imposing discipline according to Professor Hagen would be for Medicare only to reimburse therapies which have solid scientific evidence that they are safe and effective. Only a handful of psychological disorders show compelling evidence that they are biologically based (for instance some forms of anxiety and depression.) "Insight therapiesš and most of classical psychology fail to meet the minimum criteria for "science.š  Dr. Hagen and like-minded colleagues have taken a lot of heat from within the profession for their dissent and for their calls for internal policing.
Bottom line -- we don't know nearly as much about psychology as we would like to know, as we need to know and as "expertsš pretend we know. We would all be well-served for the entire field of psychology to do a lot more work. And stop pretending.