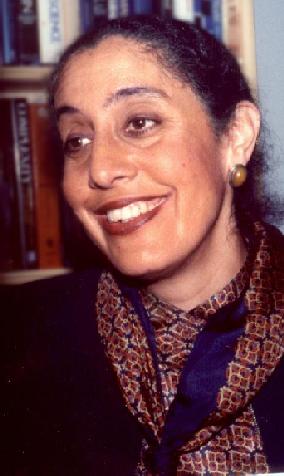 Lani Guinier
. . . is the civil rights lawyer who was nominated to be Assistant Attorney General for Civil Rights. She refers without bitterness to the very public withdrawal of that nomination, without hearings, as her "dis-appointment." A graduate of Yale Law School, formerly a Professor of Law at the University of Pennsylvania, Ms. Guinier now is a tenured law professor at Harvard Law School. Ms. Guinier voices her passionate commitment to America and to democracy in her most recent book, Lift Every Voice: Turning a Civil Rights Setback into a New Vision of Social Justice.

3 min:36 secs
America knows Lani Guinier's name but we never had the chance to hear her voice. When her 1993 nomination to be Assistant Attorney General for Civil Rights was withdrawn before hearings were held, not only did she not get the job, her ideas were silenced.
That's too bad, because Lani Guinier challenges America's smugness about our "winner-takes-all" political system. And she is passionate about democracy. When Lani Guinier talks about representation and minorities, she's talking about people's ideas, about self-definitions, not about race. She insists people who consider themselves a minority should have a voice based on their particular ideas, not just on where they live. That's what she believes our winner-take-all, single member, geographic districts now force on us.
How we express ourselves in the political process has huge implications for our society. How do people share power? How do we get along? Lani Guinier is certain that the key to answering such vital questions is giving everyone a sense that they have a voice and that their voice matters. It doesn't mean that everyone gets to be right. It means that everyone gets to be heard. We can find ways to do that in our own local and state governments, as well as in emerging democracies.
We need to restore the balance our frontier forbearers had between the needs of the individual and those of the community according to Ms. Guinier. She's confident how we vote can help us restore that balance. Yet, while voting is important, it is not enough. We have to participate. Which leads us directly to "community." Communities have to be earned and built, she assures us, they cannot just be asserted.
How do we re-build community? Look to models where we've seen it's power. For Lani Guinier, that model is the Civil Rights movement. When she was an NAACP Legal Defense Fund lawyer in the 1980s, she experienced her clients connecting powerfully with each other and with her. Their resilience and dignity were a shining example for Ms. Guinier as she struggled through her notorious 1993 "dis-appointment."
Give people the sense that what they think can matter, says Lani Guinier. Do it in families, in local communities, in school systems, in voting arrangements at the local, county, state and national level. We must all learn to think critically and to engage in conflict constructively, not shy away from it. Figure out how to learn from our differences. Because if we don't change, we don't grow. And that applies to democracies, too.