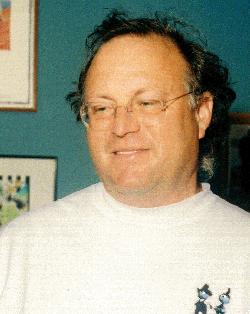 Jerry Greenfield
. . . is the cofounder and vice-chairperson of the board of Ben & Jerry's Homemade, Inc. Jerry and Ben (Ben Cohen, Jerry's best friend,) started their multimillion dollar international company in 1978, in a renovated gas station in Burlington, Vermont. In addition to making and serving great ice cream, they believe business can be a powerful force for positive social change. Jerry and Ben's book, Ben & Jerry's Double-Dip: Lead with Your Values and Make Money, Too, is rich in untraditional (and mostly successful ) ways to build and run a new kind of business.

3:35 secs
Here's a sweet deal. Imagine a business that's profitable, produces a high quality product, is a socially responsible part of the community locally and globally, and has fun in the process. Imagine Ben & Jerry's Homemade, Inc.
Jerry Greenfield and his best friend, Ben Cohen, really did start Ben & Jerry's Homemade, Inc. as a little ice cream parlor in a made-over gas station in Burlington, Vermont. (Think ice cream to Eskimos.) Twenty plus years later, Ben & Jerry's is a publicly held, $200 million international business. Whether delivered by the scoop or by the pint, that's a lot of ice cream. And yogurt. And sorbet.
Jerry (and Ben) now are hard at work, eager to institutionalize the core values that motivated them to go into business in the first place. Whatever the flavor, their most important "toppings" are the progressive social values which the entire Ben & Jerry's team is working to integrate into their day to day business decisions. And it's not easy.
Where does one put the proverbial oar in the water when you're trying to run a different kind of business? At the top. Jerry and Ben share an agenda, a commitment to using the power of business to make the world a better place. And they trust each other.
Ben & Jerry's has a reputation for the non-traditional, from advertising to selecting a CEO, to their commitment to reaching out to be inclusive in their supply chain as well as employee body and Board of Directors. Even their shareholders are noteworthy. Sure, some come to the annual meeting for the free ice cream. But they also show up so their voices can be heard with questions and comments which drive Ben & Jerry's to be ever more activist and socially aware...without abandoning the bottom line.
Customers all over the world respond to Ben & Jerry's outrageous flavors, chewy-chunky-crunchy textures, wacky packaging and amusing names (who can resist Chubby Hubby, Cherry Garcia or Phish Food?) People also like Ben & Jerry's involvement in community activities. Is anyone surprised that genuine human interaction is more effective bringing producer and consumer together than traditional mass media advertising?
Ben & Jerry's is one of a growing number of businesses that accepts the reality that business is a major force in today's world. Jerry and Ben and their 700 employees are leading the way, working to put values first in the day to day business of business, finding ways to serve the community, and taking increasing responsibility for dealing with what they create. And they're working hard to live up to their own motto -- "If it's not fun, why do it?"