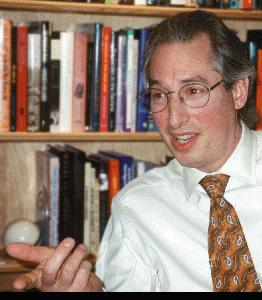 Joshua Greene
. . . is a television producer and author. Mr. Greene brings personal narratives to life in companion book and film formats. His award-winning films have aired on PBS, HBO, the Disney Channel and television stations in 20 countries. For the book and documentary, Witness: Voices from the Holocaust, Mr. Greene worked with Shiva Kumar, drawing from 10,000 hours of first person accounts housed at the Yale University Fortunoff Video Archive.

3:31 secs
Looking for a sense of the deeper dimension to the mystery of life? Joshua Greene points us to the experience of Nazi Holocaust survivors. It need not lead to despair or to a victim mentality, he found.
After spending thousands of hours over almost four years preparing his book and television documentary, Witness: Voices of the Holocaust, what Mr. Greene experienced was empathy. And an affirmation of his own religious faith. He also was reinforced in his concern that our violent culture finds death entertaining. And it generated for him increased reasons to worry that we no longer distinguish media-reality from actual history.
Mr. Greene is quick to declare he is neither a Holocaust scholar nor deeply read in the subject. He is, however, a concerned parent, worried that our media have numbed adults and youngsters alike. No "happy endings" in his Holocaust movie. Just ordinary people who became extraordinary by living through unbelievable circumstances.
Testimony is powerful, Mr. Greene assures us. He found he had to step away from the control inherent in his craft as a filmmaker, relinquish the expectations that accompany interviews. Instead, he listened to unstructured, first-hand expressions of traumatized memories from people who experienced astonishing brutality.
Would we have acted differently, either as persecuted or persecutors? We'd all like to think so, but with what assurance? Were the survivors heroic? Not by their account. We impose heroism on them because we want to believe that WE are capable of it, Mr. Greene believes.
The victims were not restricted to those incarcerated, tortured and murdered. One of Mr. Greene's witnesses is a Hitler Youth. Certainly the young man was surrounded by propaganda, says Mr. Greene, but he reminds us that we, too, live drenched in carefully crafted messages. And leaves the moral of the story to us to discern.
Mr. Greene believes monumental, critical choices face human culture. We can continue along the same destructive path with which we are so familiar. Or we can awaken to an imperative to know ourselves as members of a global community where our responsibilities to others are as great as to ourselves. Witnesses to the Holocaust know what happens when we choose badly.