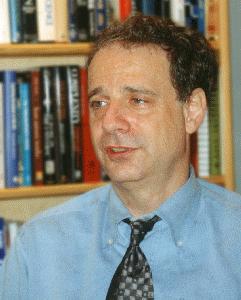 James Gleick
. . .writer/reporter. Author of bestsellers Chaos: Making a New Science, Genius: The Life and Science of Richard Feynman (both Pulitzer Prize and National Book Award finalists and widely translated,) and Faster:  The Acceleration of Just About Everything. Mr. Gleick collaborated with photographer Eliot Porter on Nature's Chaos and with developers at Autodesk on "Chaos: The Software.š A native and resident of New York City, Mr. Gleick graduated from Harvard College, helped found an alternative weekly newspaper in Minneapolis, was an editor/reporter for "The New York Timesš for 10 years and a Distinguished Lecturer at Princeton. His website is www.around.com

3:35 secs
[This Program was recorded October 12, 2000 in Atlanta, Georgia, US.]
Speed is addictive, according to James Gleick. We love it and hate it. But mostly, we are ambivalent about the acceleration which has been fueled by computers as surely as the telephone altered an earlier age, says the author of "Faster:  The Acceleration of Just About Everything."
We want things to hurry up at the same time we suffer from "hurry sickness.š We instinctively feel there's something unhealthy about racing across a commuter train platform with a cup of steaming coffee in one hand and a laptop in the other, as if our entire culture were victims of attention deficit disorder. And yet, it is exhilarating. We multitask at every opportunity and we crave the stimulation when things slow down. In spite of evidence Mr. Gleick found that there is no such thing as a "Type A personality,š he says we all seem to have become just that.
Where have all the pauses in life gone, he wonders? Pauses are critical to music and language and their steady erosion has had a toll across the board, from financial markets and the news to bedtime stories.
While Mr. Gleick is confident that we pay a price for today's unrelenting acceleration, he resists taking sides, uncomfortable with a lot of "oughtš and "ought-nots.š The right way to approach all the questions generated by both apparent and demonstrable speed-up, he believes, is a resounding, "Yes and No.š No, he says, things weren't really all that great in The Good Old Days. In fact, he believes, we've made a lot of choices -- many of them good -- and improved a lot of things. But, he says, we also feel (and we're right) that we are losing something with our unrelenting acceleration. It would be good, he thinks, if we were forced sometimes to stop. Do nothing.  Just think. Instead of constantly broadcasting and digesting information.
Those who complain about the acceleration of modern life are part of a distinguished tradition traceable to the Roman Plautus, who hated the wretched sundials that divided his days into little parts. We are more in control of time than ever before, Mr. Gleick says, but we are also more driven by it, sometimes even feeling we are time's victims.
On the other hand, it's not so bad. We do need to compress things and we've learned to assimilate a lot of information in a little time. But we've gotten used to the pace, we're impatient if it slows. We've learned not only to save time but to shift it, he says, able to see both the convenience and the social estrangement that can follow.
There still are some things that you just cannot hurry, Mr. Gleick reminds us. Composting is one. Love is another. Biological processes just take time. Speeding them up only creates tension. Which gets us back to having to accept responsibility for those choices we are loath to make about today's ambivalent fast forward that we love to hate.