America's faith traditions can play a major role in solving America's social crises. Draw on the very traditions which helped shape the nation, urges Dr. Robert M. Franklin, President of the Interdenominational Theological Center in Atlanta. We have 340,000 houses of worship in America, 70,000 of which house African American congregations. Those congregations, of all persuasions, are often right where they're needed most, throughout America. Dr. Franklin calls America's faith traditions to action.
We can't give up hope, Dr. Franklin asserts, clear that the Judeo-Christian story is about the God who privileges the least advantaged members of society. He sees the source of America's salvation as the very people who have been rejected and despised, people at the bottom of the ladder, people who live with stigma, whose lives are marked by contradiction and pain. Dr. Franklin makes a convincing case that today's wasted treasures -- millions of people we currently discard -- are the very people who can help us solve America's social crisis.
Dr. Franklin compares the power of the early Jesus movement to today's challenges, reminding us that Jesus made ethical demands on the lives of his listeners. You make leaders, Dr. Franklin believes, by placing demands of people, expecting them to measure up. People respond. He believes if we mobilize our political will and have the moral courage to reach out we can do great things. He calls on people in the faith community to join hands with private philanthropy and public institutions to reach the unreached.
Dr. Franklin's flair for a good story has made him one of America's most sought-after preachers and lecturers, stories ranging from the Biblical Prodigal Son to Dr. Frankenstein's monster. Look at people who have been rejected and give them respect, something important to do, Dr. Franklin urges. Compromise a bit of individual autonomy, transcend individual comfort for a greater good. Even Adam Smith, the ultimate promoter of the Wealth of Nations, is called into service. In a sober moment, Smith could see the potentially corrosive effects of capitalist material acquisition, warning us that if it runs its course and we care nothing of the civil society we leave behind, we ultimately undermine the good that wealth was intended to achieve.
Optimism, realism and concrete political activism converge in Dr. Franklin's urgent call to use the moral courage and the wisdom of the faith community to counter the despair and destructiveness at the heart of today's social crises. The faith community, according to Dr. Franklin, has a unique opportunity. In combining individual responsibility with the faith traditions which have sustained America, Dr. Franklin is confident we can meet our challenges in a redemptive way. He offers stories to tell and a song to sing as we make the journey together.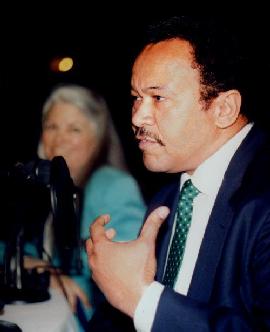 Robert M. Franklin
. . . is President of the Interdenominational Theological Center in Atlanta, the nation's foremost center of historically African American religious training and graduate education. His master's is from Harvard Divinity School, his Ph.D. from the University of Chicago. Dr. Franklin is an ordained clergy person known for his preaching, lectures, work at the Ford Foundation, service on national boards and his devotion to his physician-wife and their three children