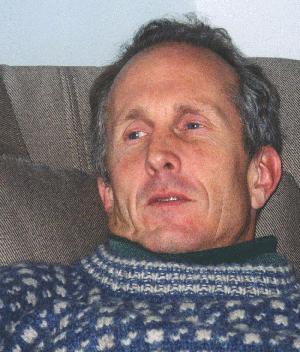 Doyne Farmer
. . . has applied nonlinear studies from Los Alamos to Wall Street. One of the early formulators of Chaos Theory, Dr. Farmer earned a B.S. from Stanford and a PhD from the University of California-SantaCruz, both in physics. He was Oppenheimer Fellow at Los Alamos National Labs where he founded the Complex Systems Group. In 1991, with Norman Packard, Dr. Farmer founded Prediction Company, a firm whose business is automatic trading of financial instruments based on time-series based directional forecasting methods. Dr. Farmer is now the McKinsey Professor at the Santa Fe Institute.
Imagine a physicist who predicts the performance of the world's financial markets. Imagine Doyne Farmer. He has been looking for "signals" within a vast expanse of noise all his life. As a graduate student in physics, he and his friends were captivated by roulette wheel balls. As a scientist at Los Alamos National Lab, he and his colleagues analyzed fluid-flow experiments, ice ages and sunspot cycles. Then Doyne Farmer responded to the challenge, What about finding order in financial markets? Translation: if you can predict the market, you can make money. Lots of it.
If you responded to this challenge and had invented Chaos Theory, you'd use Chaos Theory to predict the markets, right? Not necessarily. Doyne Farmer (who along with Norman Packard formulated much of Chaos Theory and co-founded Prediction Company) insists that the dominant principle of Prediction Company was good old fashioned trial and error. No Chaos Theory. Since they knew virtually nothing about financial markets going in, Farmer and Packard and their colleagues succeeded the old fashioned way. Hard work. They poured through phenomenal amounts of data, looking for patterns. And they got lucky -- enough.
Then Doyne Farmer, the entrepreneur, did the unexpected. He left Prediction Company, preferring the pursuit of the theoretical to meeting quarterly earnings. He is now a faculty member at the Santa Fe Institute, where they study complex systems.
Now that Mr. Farmer is Dr. Farmer again, he declares financial markets a fascinating example of a complex system. Is evolution a vital process in financial markets, playing a role comparable to the role of evolution in biological systems? Maybe. Dr. Farmer is developing a theory in which traders are the individual organisms. Strategies of traders are like the species that distinguish one group from another. These strategies evolve in time. Evolution is modulated by profits in much the same way that survival in a biological ecology is modulated by food. The traders are able to make profits. The strategies that are able to make profits are the strategies that get propagated forward. So, markets are always evolving and changing in time. Maybe.
What's Doyne Farmer's dream? The dream of every scientist: To solve a little problem so that he can move on to a larger one in the hope that discovering underlying truths. He would like to understand how complex systems work in nature. It's a dream as elusive as the markets themselves. And success is as unpredictable.