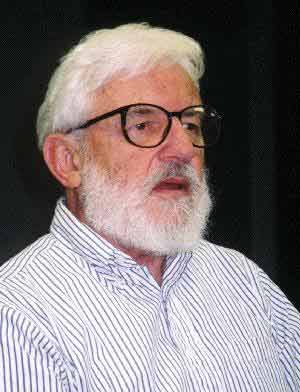 Alfred Crosby
. . . is an historian with a particular interest in the experience of humans over vast time periods. His many books include America's Forgotten Pandemic: The Influenza of 1918 and Ecological Imperialism:  The Biological Expansion of Europe, 900-1900, which was awarded the Ralph Waldo Emerson Prize of Phi Beta Kappa. Now a resident of Nantucket, he recently retired as Professor of American Studies from the University of Texas at Austin.

4:28 secs
Ecological Assault
Carve human history into thousand-year units. Look at the last 10. Dr. Alfred Crosby does. What he sees is the human animal engaged in "ecological imperialism." Dr. Crosby is an historian curious about how people have become earth's keystone species and the dramatic impact we have had on the planet. Our defining moment? Embracing agriculture. Everything else follows.
We're a pushy species, Dr. Crosby observes. Homo sapiens push each other around. And we have done the same with everything else as we've migrated all over the planet. But humans did not travel alone. We had company, what Dr. Crosby calls our "portmanteau biota." (A portmanteau is a kind of suitcase.) We knew we were taking along wheat and rice, sheep and horses, pigs and dogs. But we didn't know that our ragged little assemblage included microbes which both keep us alive and can kill us, the microbes on which Dr. Crosby reminds us the rest of life surfs. Or the weeds. Or the rats and mongooses and lice. Or the unpredictable ways plants and animals and microbes and soil interact when new species invade a territory, population explosions of smallpox, feral horses, pigs, crabgrass or humans.
Whether talking about New Zealand's radically altered flora and fauna or microbes' devastating effects on "immunologically naive" human populations, humans are part of the biological systems wherever we've gone. Tempted to think we're in charge? Dr. Crosby directs our gaze to New World cultures that fell to European diseases long before the first European fired a gun. Or more recently to the 25 million people around the world who died in the 1918-1919 influenza pandemic. Or to an all-too-likely new biological Armageddon.
Were we any other species, Dr. Crosby would predict our astonishingly swollen human population doomed for a catastrophic population crash. But he insists we're not "any other species." We are intelligent. We are adaptable. And we can change. These attributes have catapulted us from our hunter-gatherer roots to every conceivable habitat on/under/above the planet. The question -- an urgent one -- is: Will we use our intelligence, adapt and change to limit population and restrict resource exploitation in time to avoid returning a tiny number of humans to a Paleolithic condition? We might....