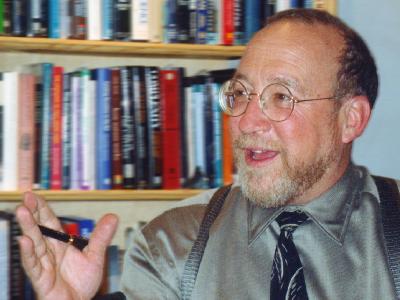 Richard Ben Cramer
. . .Pulitzer Prize winning reporter/author. Acclaimed for his influential best-seller, What it Takes:  The Way to the White House, for Joe DiMaggio, The Hero's Life, and for his writing about Ted Williams, Mr. Cramer is a journalist whose dispatches from the Middle East for "The Philadelphia Inquirerš won the Pulitzer for International Reporting in 1979. His work has appeared in Rolling Stone, Esquire, The New York Times Magazine, Time and Newsweek.

3:42 secs
Everybody loves a hero. Or do we? The very idea of "heroš reflects as much about the times in which a person lives as the person who fits the bill.  Joe DiMaggio was a hero of and for an America looking for Mr. Perfect in a time when America longed for the unambiguous and craved certainty. Joe delivered. In return, America idolized him.
But Richard Ben Cramer, in examining the person behind the DiMaggio icon, found that America loved its creation, not the man trapped by his own legend, alone and obsessed by money. Why the compulsion for money when at his death, Joe was still the highest paid player in baseball? Because that's how Joe kept score. And Joe had to be Number One. Mr. Perfect.
Richard Ben Cramer did not set out to diminish the celebrated one-dimensional character DiMaggio, an idol created in the 40s and 50s by a captive press corps. (The sports reporters were paid by the ballclub owners.) But the real Joe -- son of Sicilian immigrants, a kid who was inarticulate and lousy in school, with no reason to expect to benefit from America's bounties -- is who captured Mr. Cramer's attention. And on closer inspection, the real Joe turns out to be a lot more interesting than the cardboard figure who struck a lucrative 65 year deal with America.
Joe DiMaggio was a perfect fit for the public's pigeonhole marked "Mr. Perfect.š We paid him well for squeezing into that straitjacket. But the great DiMaggio paid a great price for his elevation -- Mr. Cramer tells us Joe never grew up and was weighed down by a sadness on an operatic scale.
Public figures are as complex as we are, Mr. Cramer reminds us. Comparing Joe DiMaggio to the presidential candidates on whom Mr. Cramer reported in his best-selling and influential book _What It Takes: The Way to the White House_, Mr. Cramer shares his growing distrust of America's insidious demand for perfection in our heroes. Real heroes -- heroes like Odysseus -- have warts and failings and things to teach us about ourselves, says Mr. Cramer. And these are things we need to know but do not get when we demand perfection or accept mind-candy pseudo-heroes.
e are more likely to find public figures heroic if we allow them to live among us like human beings, Mr. Cramer insists. Value them for what's really great about them. It would also realign us with what's really heroic about America -- a nation founded on ideas, not individuals, committed to the notion that no person should be raised by a myth-making process to kingly status. When we are true to those ideas about people and the lives we live, Mr. Cramer suggests we will be much closer to finding the heroes for whom we long.
[This Program was recorded October 24, 2000 in Atlanta, Georgia, US.]