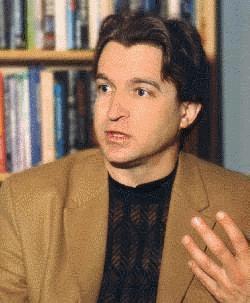 Phil Cousineau
. . . is an international award-winning documentary filmmaker. He has written almost a dozen books and contributed to that many more. He is a traveler, photographer, independent scholar and former house painter. Widely known for "The Hero's Journey," his biographical film and book on Joseph Campbell, Cousineau offers readers a path by which to make travel sacred in The Art of Pilgrimage. Phil lives in San Francisco with his partner, Jo, and their son, whom they named for Jack Kerouac.

2:36 secs
Traveling more and enjoying it less? Turn your next trip into a pilgrimage, suggests filmmaker, author, independent scholar and traveler Phil Cousineau. Combine an inner journey with outward travel. If you choose to be a pilgrim, you can shake off the ordinary, before you find yourself in Belgium on a Tuesday -- numb.
As far back as we can look, humans have been a peripatetic species. If anthropologists are right, we can trace our wanderlust back perhaps as far as 3.7 million years. Real travel, according to Cosineau, stretches the imagination, stretches our spirituality, stretches us physically, emotionally, in every sense.
But a pilgrimage is a little more. It fulfills a deep yearning in the soul to go to a place you or your people consider sacred, a place that holds out an answer for a deep burning question. And there's no assurance about what you'll find at the other end. The pilgrim's journey is a search for meaning itself. The point is to have a real encounter with yourself, to search for answers to questions that burn in your own heart.
Any journey -- a dream journey, a hero journey, a soul journey or a business trip -- can take on the deeper meaning gleaned by a pilgrim. Paradoxically, all those things that a good tour guide keeps at bay may be just those things that would make the trip worthwhile. Cousineau has found that a money-back guarantee of "no problems" may also defeat any possibility of satisfying the very hunger which prompted the journey in the first place.
There are no formulas for a pilgrimage. And nothing quite to compare. Go with a big question in your heart. Then be open to adventure. A proper pilgrimage takes us down into the unknown. It forces us to face fear. Confront obstacles. And overcome them. A mature hero -- as distinct from the pale imitations offered by today's popular culture figures -- is then prepared is return home with the stories of what she or he has learned.
Whether the pilgrimage is religious, cultural, geographic, literary or to a pop culture center like baseballs Cooperstown, N.Y., they all draw on the same longing that drew people to the ancient Oracle at Delphi. If we have the courage to keep going, the tenacity to get to the sacred destination, there is the promise of an encounter with oneself. That encounter, ultimately, allows us to return home to those who await us, renewed and ready to share the wisdom reserved for the pilgrims of the world.
[This program was recorded November 13, 1998, in Atlanta, Georgia, USA.]