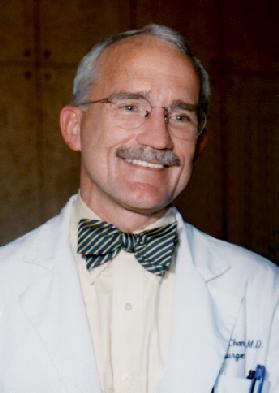 Joseph P. Chandler, M.D.
. . . has been Team Orthopaedist for the Atlanta Braves since 1987. He takes care of regular people, too, as a partner with the Resurgens Orthopaedics group in Atlanta. Dr. Chandler went to medical school at Emory University, trained in surgery and sports medicine at Yale and the University of Iowa. In addition to his passion for medicine, he is an avid baseball fan.

3:43 secs
What do Atlanta Braves baseball stars have in common with weekend athletes and kids on swim teams? When they get hurt, Dr. Joseph P. Chandler treats them. In addition to being a partner at Resurgens Orthopaedics in Atlanta, Dr. Chandler is Team Orthopaedist for the Atlanta Braves.
Whatever the injury, whatever the station in life, all of Dr. Chandler's patients share differences. A patient's goals and demands differ radically. Everybody's genetic structure is different and individual bodies respond differently over time and under various circumstances. Alas, we were not all made to withstand the astonishing physical (and psychological) stresses of being a Major League baseball pitcher -- star athletes are "genetically blessed." And being abundantly competitive also helps.
These distinguishing characteristics of baseball stars make them fun to treat as patients, according to Dr. Chandler. He's found that's especially true of Atlanta Braves players -- exceptional people as well as players. He credits the entire Braves organization for great scouting and much more.
Dr. Chandler worries when overly enthusiastic parents and coaches forget that most kids simply don't possess the unique combination that adds up to a career in professional sports. He urges us to help kids enjoy the great benefits of sports for physical and emotional health, rather than allowing kids to get physically and emotionally hurt by focusing them on one single sport, year round. He's sad to see over-professionalizing sports for the very young. Parent alert: some coaches, especially on youth baseball teams, simply don't want to hear Dr. Chandler's caution against over-playing youngsters. Too often, kids end up as patients as a result of a growing win-at-all-costs mentality.
Medicine is still essentially an art because our genetic structures are so individual, our motivations and willingness to participate in our own well-being so varied. How will an injured body respond? When is surgery the right answer, when is it the wrong answer? What rehabilitation will work best for whom? Sports medicine and sports psychology meet in Dr. Chandler, whose enthusiasm for sports benefits patients of all kinds. And just in case you're tempted to forget, "quick fixes" are out, almost always.
Baseball, like life, is a game of lots of little things. And, like life, maintaining good health (think off-season conditioning) is always better than having to fix what's broken. So Dr. Chandler prescribes that we remember sports are meant to be fun. Enjoy. Exercise restraint and good judgment Encourage your kids to do the same. But when injury comes -- and some injuries, Dr. Chandler assures us, are unavoidable -- remember that surgeons and patients succeed together. Sounds like teamwork, doesn't it?
Oh, yes. Dr. Chandler is a huge baseball fan. His team? Guess.