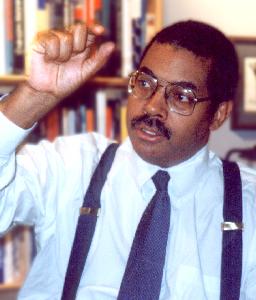 Stephen Carter
. . . Professor of Law, Yale University, and an author. A former clerk to Supreme Court Justice Thurgood Marshall, Mr. Carter is among the nation's leading experts on constitutional law. Mr. Carter confronts what he views as challenges to America's democracy in his several books, including The Culture of Disbelief, Civility, Integrity and God's Name in Vain.

4:39 secs
[This Program was recorded October 31, 2000 in Atlanta, Georgia, US.]
Religious believers put their beliefs at risk when they become active participants in electoral politics, according to Stephen L. Carter. Mr. Carter is a Yale Law professor, Constitutional expert and conservative Christian.
People of faith -- lured by a fleeting political moment into embracing a candidate or party, working for electoral wins, coming to "the big tableš -- risk the very beliefs that motivated them in the first place, Mr. Carter contends. The process of electoral politics, he reminds us, is based on compromise and give-and-take. Being a party to that mutes the prophetic voice, whether religious or secular. And Mr. Carter believes we need that prophetic voice.
It's not that either politics or religion is better, says Mr. Carter, they're just different. People with deep religious faith have been molded by it, have learned moral lessons, understand differently how to behave, think, relate to others and will bring those differences to their politics. That's very useful to a democracy. But people elected to political office are obliged be make practical decisions, not ideological ones.
Mr. Carter has no problem with America's general sense of being a religious people (though prejudice against atheists does concerns him.) A lot of very important social changes has been effected in America in part because of social movements born in or led by religious outsiders, Mr. Carter reminds us.  He need point no farther than America's abolition of slavery and 20th century Civil Rights Movement.
And it's fine when a politician ends his speech with "God bless you and God bless America,š if this is a profession of that politician's faith. But if the proclamation is driven by a focus group, not faith, Mr. Carter thinks it is...terrible. It is not only cynical, it also violates the ancient prohibition against taking God's name in vain. It says, in effect, "We don't care what you believe, we just care what you say.š
What about "one nation, under Godš in the Pledge of Allegiance? Say it if you believe it, refrain if not, you pick, advises Mr. Carter. But it's very different and a serious problem when the Chief Justice of the United States adds "...so help me Godš to the Presidential oath. That's not optional and turns the oath into a religious test, prohibited by the Constitution. George Washington said it, but the phrase should not be there.
Our democracy needs prophetic voices preaching to politicians, Mr. Carter insists. Politicians do well to listen and learn. It's when religion and politics blur that we all lose.