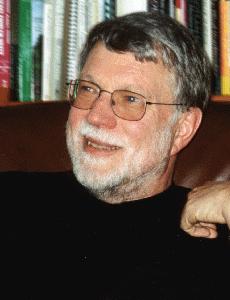 John Seely Brown
. . . Xerox Corporation's Chief Scientist, Director of Xerox's Palo Alto Research Center (Xerox PARC) since 1978. Dr. Brown is co-founder of the Institute for Research on Learning, a member of the National Academy of Education and is a Fellow of the American Association for Artificial Intelligence.  He's been involved in leading edge technology since the days of the ARPAnet. Dr. Brown and Paul Duguid explore the co-evolution of technology and society in The Social Life of Information.

3:22 secs
The future is a co-evolutionary system between technology and people, says John Seely Brown, Xerox's chief scientist and director of their famed XeroxPARC (Palo Alto Research Center). What's shaping our future? A creative dance that's between the physical and virtual world as society and technology co-evolve, a dance that creates the space in which new things start to emerge. Don't leave your future to anyone, he urges, neither anthropologist nor technologist.
Fundamental to understanding the 21st center is a profound shift in thinking, Dr. Brown (JSB) is confident. It's away from a focus on lone individuals to understanding that we are all socially constructed. "I think, therefore I am,š is out. Enter, "We participate, therefore we are.š
XeroxPARC is cutting edge today, but tomorrow, they will be the norm for a knowledge work-scape, Dr. Brown believes. A culture of learning will be required, one which fosters an ecology of knowledge, a culture in which we must all participate. Passive is also "out.š
How do we get there? Information -- inert and largely in computers -- gives way to knowledge, which lives in and between people and their experiences. In this unfolding future, everyone's a thinker, capable of creating knowledge, of innovation and invention. Where's the action?  Where the rubber meets the road, with those who "do.š "Diversityš became critical. It's the essence of pioneering research, what allows the creation of industries, not products.
Think of communities of interest, Dr. Brown urges, communities of practice. The power of the World Wide Web is that it fosters and supports communities, he observes. And because we are always members of multiple communities of interest, an ecology of communities of interest begins to become apparent. How do the virtual and the physical augment each other? Think Silicon Valley.
From his arrival at XeroxPARC in 1978 to today, JSB has assumed that the fundamental constraint on technology's future is how we can adapt it to work practices and societal practices. That requires a deep understanding of his dance between the social and the technical. So he enhanced PARC'shard-core physicists, mathematicians, computers scientists, engineers and psychologists with avante guarde artists, and linguists, anthropologists and sociologists, people with the talent, courage, intuition, respect and taste to go beyond the norm.
The key, says Dr. Brown, is to build technology that fits like an old shoe.  People shouldn't have to think about technology.  It should be transparent, disappear.  Hence, a focus on design within a technology's social context, making things interactive, basing technologies on the architecture of experience, whether work-scape, learning-scape, or livingroom-scape.
There is order in Dr. Brown's universe.  He talks readily about Metcalf's and Moore's Laws. But he believes we may now be jumping over some of them, reaching around and beyond them. So don't be stymied by today's technological straight-ahead tunnel-vision and technological determinism. Look around. Use your peripheral vision. Resist fear by becoming engaged. The future, Dr. Brown assures us, is ours to create.